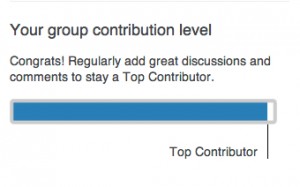 Fortunately I was visiting with family and focused on enjoying our time together when I got this surprise about my LinkedIn "group posting status" appearing across any and all my pages.
The message in a blue box, on the right side of every page read, "Your posts are now being moderated group wide." Group Wide Auto Moderation or GWAM.
What?! The groups where I contribute actively, that contribution scale on the right of the window will show "Top Contributor."
The message of posts being moderated brought on feelings of surprise, frustration and even anger. This last feeling after I tracked down the LinkedIn explanation which is specifically vague. After all, if you don't know what caused the problem how can you fully correct it and recover.
It almost felt I was given a jail sentence.
Another blogger, Jen Dewar, used the term SWAM, "site wide auto moderation" in a post on her blog, "Help! I've been SWAM'd on LinkedIn!" Actually many people refer to that term.
I believe more appropriately it's GWAM because you are still able to post LinkedIn status updates. But whether it's SWAM or GWAM it is certainly something to track down, act on and correct. Here are 5 tips to understand and be able to get out of LinkedIn group posting jail.
It can be because of one contribution to just one group that LinkedIn does not identify for the accused, which marked as spam or flagged irrelevant.
For me it was hard to say how recent the post was. It could have been years ago since people often jump on posts that go back as far as I've seen to 5 years ago.
You know the kind of perpetual posts I mean: highly popular and evergreen content posts or a post that is the moderators invitation to promote yourself in some way.
Only two possibilities in the LinkedIn help explain why a "group wide auto moderation" status message would appear everywhere once you log in:[Continue Reading…]