It's been a number of years since I attended a conference. Because I love connecting in-person with people I meet online it was exciting to learn from Jacqueline Gum about the PubSense Summit(TM).
Authors.
Publishers.
Agents.
Distribution.
Industry leaders all in one place from March 22 to March 24.
Managing a conference the #introvert way.
Planning for a conference:
For me, the planning of attending a conference is a time and energy issue. After I looked at the concurrent sessions for the 3 days, I felt almost overwhelmed.
But being the gracious Southern Bell, Jacqueline made time to walk through the conference agenda with me pointing out her take on each session.
We telephone talked and emailed until I had all selections made to be ready to press the REGISTER button.
Where to stay: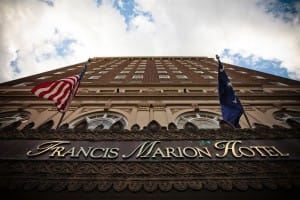 While I wanted to take advantage of double hotel points, the host hotel's nightly rate was too good to turn down. The Francis Marion Hotel turned out to be the perfect place to stay. Have you ever stayed in a hotel where every time you left your room to take the elevator that the doors were just opening for you – and no one was on the car? Spooky huh? Rumors had it the floor we were on was haunted. In addition to this little benefit, the hotel was within a 5-minute walk of two events held outside the hotel.
But fast elevators and short distance walking and talking with people I will likely not see again is pretty comfortable.
Registration desk:
It never fails for me to be the first or one of the first people at the registration desk and this conference was no different.
This quieter time lets me meet the event staff and talk with them before things kick off. Then I have some friendly names and faces for the event as it goes on if I have logistics or any questions.
Starting off with some personal reflection:
What I loved about the Summit is that the opening presentation, led by Brenda McClain, offered a chance to reflect on – "Why am I here at this conference?" It was a chance to reflect on the pre-planning and personal goals.
Bren (that's what Brenda goes by) also confirmed my suspicions that most authors there were – introverts. Then I felt one of my three goals would likely be met.
Conference parties the introvert way:
There was just one conference party! Hooray. Likely most of us in attendance were crying that cheer.
I paid for my husband to go as a guest to all events and as the extrovert in our couple, he was excited when that evening party was on the agenda. Food, people, drinks and people. Yes, people.
It was so refreshing that every publisher, agent and the industry leader representatives from CreateSpace, Kindle, Publishers Weekly, IngramSpark, Chubb Insurance and more were so approachable. That's what I took advantage of for the 'Appy Hour.
Those are some of the ways I manage a conference. I think I'd be remiss though if I didn't give you some takeaways.
Conference 4 gold nuggets:
In looking through all my pages of notes, it occurs to me if you are a book author or writing one you might be interested in a few resources and findings.
Scrivener is the new word processor in particular as an author writing for platforms like Kindle. Who wouldn't want to automatically convert to that format?
Fiction in the digital format sells more than other genres. But whatever you write, the delivery format needs to fit your market.
They call themselves, "the bible of the book business", Publishers Weekly. If you have written, are writing or thinking about writing a book, this goes to publishers, booksellers, librarians, literary agents, authors and the media. You can subscribe free online. It was one of my top 5 action items for my return – and I did it.
Just as quality and relevant comments are important to the success of blogs, reviews are important to the success of a book. If you have good reviews use them.
The real work in writing a book is in the writing and marketing. Write, then publish and know that selling takes the most work for most authors. I suppose the same could be said of a blogger's work.