Two Introvert Specific eBooks – Free Previews
1. ~ 9 Free Audios!
Introverts: Independent Professionals, Salespeople, Small Business Owners – Networking Secrets for Sales Reluctance: "How I Overcame Unsuccessful Networking as an Introvert!" Sales reluctance can hit salespeople at any point in selling. Introverts in particular have innate strengths that can help us to be more successful, influential and effective.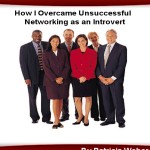 You don't have to make ALL of the MISTAKES I have made. The next best resource to ensure that you successfully sidestep your sales anxieties, overcome your fear of rejection and demolish your devastating doubts. Here's how you can increase your sales by at least 20% to 30% more easily and quickly, being just who you are.
2. ~ Free 32 page excerpt!
Introvert or Extrovert? Employee, Employer, Independent Professional, Salespersons: "The Happy and Fulfilled Introvert: I show you how to make this a reality." Here's your guide to how you can: – Once and for all demolish any devastating doubts and discover your true worth. – Feel good about who you are, rather than wasting your time to become an extrovert. – Be happier at work and in your personal life. Finally, the truth about introverts to let the negative myths easily dissolve.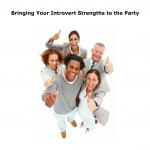 3 Introvert Specific Collaborating video messages – Free Previews
~ Three On Point Videos!
Collaborating is what all the big, high-profile internet marketers use to build lists and passive revenue. Here are three introvert specific videos so you know the strengths your introversion can bring to  joint ventures or collaborations.
#1 Joint venture matchmaking: How compatible are you?
#2 Joint venture matchmaking: Bring in your introvert strength: listening.
#3 Joint venture matchmaking: working independently. Get quick tips on these  videos now –  point to what the introvert brings to collaborative work.
Now you have had a sample of some free things and maybe you are ready to get the full collaboration story?
Unique eBook Series! For Online and In-person Networkers who Collaborate:
Are you convinced that collaborating or joint ventures (JVs) are a good idea but…?
The truth is, you can't see yourself in that picture… of working successfully with a JV partner?
How To Have the Best Fit, How to Avoid the Belly Flop, Boost Business Success & Psychology + Soul PLUS these TWO bonuses: links for our Joint Venture Matchmaking presentation and BlogTalkRadio interview!
With Patricia Weber (www.patricia-weber.com) and Monique MacKinnon (www.energeticevolution.com)


100% No Questions Asked Money Back Guarantee on Any Purchase. Order totally risk-free.