Media for Patricia Weber, author, speaker, business coach
June 2015,
Tony Gambone is one of the best radio talk show hosts. This was my first time meeting him and honestly, I felt like I knew him for a long time.
Come over to "Tough Talk Radio Network," now and learn some secrets not even in my introvert book.
June 2015,
It's a fun interview with my online friend of almost 8 years, Gail Foley. Listen at her OneAwesomeCommnunity which Connects Women Entrepreneurs, or here right below the poster. In just 26-minutes we packed a punch! Or two.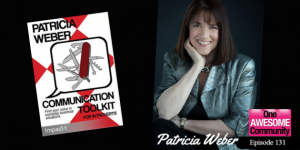 Some highlights for you:
2:15 min – where and how we met online 8 years ago
3:32 min – the surprising even which you might suspect leads to an Aha moment
7:40 min – she asks, "what was the "event" that steered you into sales?"
10:30 min – this is a magic introvert strength for sales success
12:30 min – Gail knows when to pull in this introvert tendency although she IS, an extrovert
and more to just 26 minutes.
April 2015,

Donna Gunter Ultimate Authorities Radio teased this out of me, with lots of giggles as we go along, in just 42 minutes:
1.   Why the heck I wrote Communication Toolkit for Introverts, with so many other books for introverts out there? 
2.   What qualifies someone as an introvert or an extrovert?
3.   What are the six essential skills needed for introverts to succeed in business? How did I select them?
Listen now to: "Get Success You Want, Your Voice Heard, And Let Your Introvert Nature Lead"
February 2015,
The Compass Rose Leadership Navigator host, Business Success Coach, Donna Price, brings relevant leadership topics to business leaders, from leadership trends, employee engagement, team building, conflict resolution in the workplace, coaching staff for success, leadership strategies, vision and strategy and many other topic areas. In just 30-minutes Donna asks questions to give a "book tour" of my introvert book, Communication Toolkit for Introverts.
October 2014, Patricia Weber, Two interviews in one
Mark Vang, moderator for the Sanctuary Networking Community compares the effectiveness of video views using two different video formats featuring a Patricia Weber interview.
September 2014, Patricia Weber, podcast interview
Cherrie McKenzine shares podcast interview and in less than 20 minutes, you'll learn how to plan your encounters in a way that plays to your strengths, like scouting out who will be at the meeting or negotiating the right time to discuss an item.  Listen in to Introverts: How to Play to Your Strengths.
July 2014 Patricia Weber, Video and audio interview by Howard Hermes
How to Succeed in Sales as an#introvert including these highlights:
Can an introvert succeed in sales? (8:15), What are the skills that introverts have that prospects crave? (11:43), How to use social networking to your advantage (33:45) You can also download it!
June 2014, Patricia Weber meets Lori Lynn Smith:
Patricia Weber visits Passion Diva radio show with host Lori Lynn Smith   You Have Everything You Need to Succeed as an Introvert Smith asks, What is everything the introvert needs?
May 2014:
Patricia Weber visits Never Say Impossible Radio with radio show host, Myra Goldick. Kicking off the phrase "any minute to be released" Communication Toolkit for Introverts: Find your voice in everyday business situations. Goldick asks, Can you be both an introvert and an extrovert and a baby boomer?
Patricia Weber Speaking Information for Meeting Planners