Unlike other products about collaboration, we're aware you likely want to solve one or more of the following issues…
Self-promotion: You don't know what you bring, if anything, to a JV
Experience: Your experiences of working with a JV partner have been disappointing or nonexistent
Trust: Will you be able to trust your JV partner with the finances and contacts?
The truth is, the failure rate of JVs is extremely high: According to Osborn (2003), 30 to 61% of joint ventures fail, and 60% fail to start or fade away within 5 years.
Process greatly improves chances for the best Joint Venture match!

"Patricia Weber and Monique MacKinnon have a fabulous program that is one of the top tiered things to do to grow and expand your business. I really enjoyed their calls and programs of how they do some profiling to help you make the connection to have a good match in a JV partner. It's very interesting!"

~ The Pie Princess, Mari-Lyn Hudson, https://sedonapies.com, Tel: 510-564-7880

Plus, a JV is highly personal.
So is being self-employed, especially if you're promoting your self — not another company's product or service.
Take the JV exploratory discussion, for example: You cannot hide from yourself or your potential JV partner.
You are IT! It's similar to a job interview, except more complex and potentially intimidating because it's like CNN's slogan:
"Keeping them honest".
A successful JV requires that you be be honest and open with your partner every step of the way… through the smooth AND rough spots along your JV journey.
It can be scary but… like the roller coaster ride, it can be exhilarating, refreshing and satisfying too!!
So, do you SEE yourself here?
I'm a risk taker!
I love challenges.
I want to have more impact and influence than what I have today.
I have been self-employed on a full- or part-time basis for at least one year.
Then join Monique MacKinnon and I (with PDF version)  for only $9.99
Complete Guide to Successful Collaborations! Get our complete eBook series to systematize the process: Have To Have the Best Fit, How to Avoid the Belly Flop, Boost Business Success & Psychology + Soul… PLUS these TWO bonuses: links for our Joint Venture Matchmaking presentation and a BlogTalkRadio interview.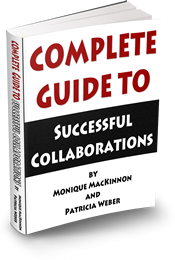 Learn how to optimize the…
JV Exploratory Discussion
JV Negotiation Discussion
JV Types
JV Exit Strategy
You too can have a similar positive experience with our complete series of How To Joint Venture –
Joint Venture eBooks are powerful planning tools for successful collaborating!

"Monique MacKinnon and Patricia Weber's eBooks have the WOW factor. Entrepreneurial Joint Ventures Boost Business Success: This e-book is an excellent research and planning tool for business owners everywhere! This excellent resource provides information for contemplation, while functioning as a workbook that assists the reader in solidifying their thoughts regarding whether or not to joint venture. For those requiring more direction, there are tips and suggestions for further analysis. The book is clear and concise, and offers the reader the opportunity to reflect on what makes a solid joint venture versus a JV that's doomed from the start. Entrepreneurial Joint Ventures: Psychology + Soul Wow! What a powerful book! This excellent e-book offers clear insight into primary entrepreneur personality types. The authors then take those insights a step further by offering advice as to how to best joint venture with the individual most appropriate for your personal style.If you've been considering, or just wondering about joint ventures this is the book for you!"

~ Dale Little, Business Strategist, Business Tips & Techniques: Business Strategies That Work –
Monetize your collaborations sooner: 2010 Double Pair of ebooks Entrepreneurial Joint Ventures!
Get our FOUR JV ebooks to systematize the process: Have To Have the Best Fit, How to Avoid the Belly Flop, Boost Business Success & Psychology + Soul… PLUS these TWO bonuses:
links for our Joint Venture Matchmaking presentation and BlogTalkRadio interview… for only $9.99