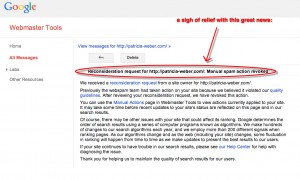 In Google Penalty: No get out of Jail Free card, part 1 and part 2, we identified my particular Google penalty – Unnatural Outbound Links, along with the actions I took up to the point of a Reconsideration request.
No. My first round of about 12 hours of time and energy did not bode well. But steps 1 to 6 were well worth the investment.
Here are the steps that lead to the ultimate outcome – penalty removed.
7 – You can try going it alone
Thinking I took all the right steps with correcting broken links and removing my affiliate links that were not able to be changed to nofollow, I submitted my request for reconsideration.
Within ten days, I got an email – request denied.
8 – Or find a Google jail bondsman
Finally research took me to a blog post where I found a Google Penalty Pro in my budget. The post, GOOGLE PENALTY AND WHAT I DID by Jens-Petter Berget was how I learned of him.  The wonderful pro is Mayura de Silva and you will find him here, https://www.mayura4ever.com/. He is knowledgeable, responsive and professional.
As it happened, the SEO of MyBlogGuest replied to my email which some helpful advice from another blog host who was hit with this penalty. This let me know, I was going to either be in for hours of work in something I don't enjoy doing, or I would have to trust someone like Mayura who I only met through a blog post.
A definite contributing factor to my penalty was Participating in MyBlogGuest for selective quality guest posts. They were penalized by Google and so would every blogger who used their service. Even though it isn't a paid service, Google equates it to "buying links." So unfair.
Learning their demise the day before my own Google penalty, led me to make the difficult decision to review every single guest post ever posted, regardless of where it came from. I either deleted the post, or made all guest post author links nofollow.
Finally, I contracted Mayura. He did the remaining work which was, and is going forward, invaluable.
9 – Document your corrective actions
Between the conversations on Google Webmaster tools, and my findings in searching for others who have navigated this maze, it was apparent that documentation would serve two purposes.
First, because you don't get clear guidance from Google, for your own files, it's best not to waste time backtracking actions. I started with making all outbound links, nofollow, then disabling an affiliate program because there was no flexibility with the links, as well as disabling the comment plug-in default setting for outbound links in commenters posts.
Second, because at the next juncture, there really is a real person looking at what you did, it's helpful to include your documented steps in the reconsideration request. I decided to both include the content in the request, as well as with a Google document link.
Once Mayura's actions were taken I documented those too. When he submitted the actual Reconsideration Request which takes under a minute – it's simply follow the penalty notice, and find the link for reconsideration request – I asked him to include the documented content and link to it.
10 – Google penalty revoked
All that work. All that invesment in time and money. One simple little email from Google.
Penalty revoked.
Page ranking in process of being restored – at least back up to a 2 now.
Followed by a happy dance.
In summary then, here are the steps I took that worked for the Google penalty of Unnatural outbound links:
–       Allow your emotions to express themselves and then, get into action.
–       Either do your own research to get everything done, or hire someone like Mayura, who is a Google Penalty pro to do it for you. This includes – nofollow code for outbound links, correcting all broken links and possibly installing a couple of plug-ins to minimize future happenings.
–       Document everything you and your pro do, for your files and more importantly, for the Google reconsideration request.
–       Be patient to hear from Google because in general in only takes about a week to hear back with either request denied or penalty revoked
How are you working with your content to avoid Google penalties?
If you had a Google penalty, how did you deal with it?
Do you think it's really important to pay attention to Google?