In Job 1:21, the bible says, (and this also can apply to dating) "He gives and takes away." Job suffered unexpected disasters – his 10 children died, and his entire estate vanished. All of this in one day! But unlike Satan predicted, Job never cursed God.
I do not claim to be one iota like Job. Not even close. In the 10 months my dad, husband, and mom died, I recall that I would yell at God almost every day. The last 10 months have been more laughing with God about my dating experiences.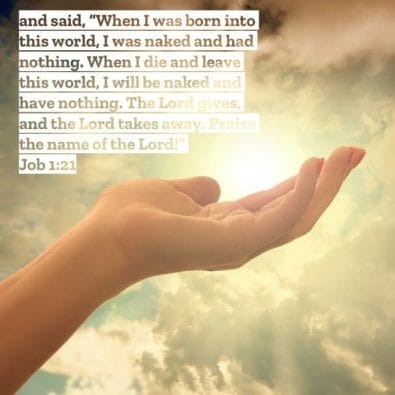 But just as God gives and takes away my up and down weight gain, I find Job's wisdom about God in dating too.
Toward the end of my second year of widowhood, a couple my husband and I were good friends with invited me over for a Memorial Day celebration. When I got there, I discovered they also invited another man, recently divorced. Since then, I questioned their intentions several times, and every time they say they honestly had no purpose other than to open their home to two good friends.
Okay, so let's just say these good friends may be getting me closer to believing their intentions.
Keeping in mind that He gives and takes away even in dating, I've been able to let go of the most painful one, which, for me, was the first dating experience almost two years after my husband died.
Since then, my dating events are beyond counting on my 10 fingers, and I'm into counting on my toes. No, dating is not easy, but sometimes it really is fun.
Even feeling something wasn't right, I stayed in – on and off – for 10 months, with whom I later learned was likely a narcissist.
I had 9 family and friends tell me to GTFO – look that up if you aren't sure what it means.
Note to my two sisters who were too kind to just be direct: from now on when you hear about my dating experiences, tell me the truth!
And, note to my son: Son, you can question me with my date descriptions saying something like, "Mom! He's just not for you."
But being stubborn and a caregiver, I felt, "No, I can help him." I looked beyond the control, beyond the circular conversations about situations that got him angry.
The last straw was it for me anyway. He felt I needed to "get over" my husband.
This from a man twice divorced and more [to protect his identity, I leave that out.] I reluctantly but calmly told him, "my family and I were celebrating Marty's birthday." He went crazy, learning the reason I didn't answer his phone call right away. He blew up and yelled, "Why do people like you still talk about a dead man this way," but he went on from there. It's just that at that moment, I knew God was taking away.
Immediately I packed up his belonging at my house and waited to call him to tell him to bring my stuff from his house and pick up his.
As fate would have it, I had a virtual meeting with my psychiatrist. She wanted me to fill her in on how life is going. I'm still on anti-depressants, and this woman is fabulous. My psychiatrist, the tenth person, told me in no uncertain terms to "run, don't walk" from this man.
I'm just stubborn sometimes, but not this time. Although I did ask my counselor, why? Her assessment. complete with just one or two more questions, "he's a narcissist, so he's not going to change." Wow. Okay. Now I think I get it.
As a cerebral learning person, I started to research and read all I could about the narcissist. "Well, God, you sent me a fantastic first one, I must admit."
Everything I read said it was of brainwashing of sorts. Actually, I did feel like I was leaving something oddly comfortable and, at the same time, painful.
In dating the next guy, 5 months after the first failure was nowhere close to the height he claimed in his profile. I'm 5′ 2," and no way does someone that height looks down – after taking off their 2″ heel boots in exchange for flats – at someone claiming to be 5′ 5″.
I enjoy my conversations with God because I grow from them.
"Seriously, God. I now made a list of the most important traits of my next close to the perfect man."
He speaks back to me, "Really? You made a list?"
It obviously was not my list. Oh, sure, I would pray that God gives me His wisdom in dating, not mine. But my list didn't work in the silliest ways.
"God, please help these men who are lying about their height in their profile because it's a deal-breaker me."
God just laughs. I always hear Him laugh when I claim the ridiculous.
God gives, and He takes away.
"Thank you, God," I declare with my arms raised high to the heavens, "because that height, well, it was a deal-breaker."
He knows though companionship is one thing I still desire, and I know He is working on His plan, not mine. Again, thank you, God. For what You have planned for me.
Are you interested in dating now as a widow or widower? Have you had any dating experiences that you know were a give and take away in His wisdom?