Many writers are introverts. We take in life fully, reflect about experiences and some of us then write or blog about those findings.
You may or may not know Joel Osteen. He's labeled everything from mega-church pastor to Christian evangelist on the periphery. When my mom used to stay with me she loved listening to Joel every Sunday morning. I would catch a word here or there but did not ever listen to a full message. Whatever he and his wife Victoria are, whatever you think of him, their church has the largest congregation of about 45,000 people, in the USA. It's got to be worth paying attention with that kind of real life following.
Osteen recently launched a satellite radio station. My husband and I do a fair amount of traveling via car and years ago we subscribed to satellite radio. Maybe you subscribe? Now being able to tune in from my car why not listen and see what mom found so inspiring?
After hearing a couple of his messages, I began to think, could we learn as writers?
Here are 6 tips from public speaking to blogging with Joel Osteen's model.
1. Engage and pull the audience in quickly
After a God bless you, Osteen segues to "I like to start with something funny," and then he proceeds to tell a joke, not even usually related to the message. Maybe I was misguided being warned as a speaker and corporate trainer, "Never open with an unrelated joke." Maybe that's one reason I don't have 45,000 people listening to me!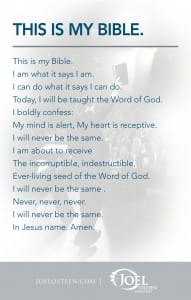 His use of humor helps everyone to start listening from the beginning. Before you know it, you are ready to listen. And since he's a pastor, he leads you to hear what he believes in.
"Hold up your bible. Say it like you mean it." He continues, keeping you engaged as you declare what he asks you to say.
 2. Speak (could we say write) as if you are talking with a few close friends
From what I learned about Osteen through a few of his messages, he never wanted to speak in public. He enjoyed being backstage when his father was pastor. Maybe he was shy or more of an introvert.
The take away from either seeing him on television or hearing him on radio is he makes you feel you're right at home having a friendly conversation.
3. Relatable purpose upfront
"I want to talk with you about…" and then he opens with a life issue, a life problem, a situation that almost anyone can relate to. I could relate to a particular one with a recent message of how easy it is to let all kinds of upsetting events build up inside us.
Can you relate at all? Yes, me too. See I told you so.
4. Tell stories
Osteen gives his take on the message topic with all kinds of stories. Often it is something that happened to him. Other times it happened to a friend. Still others, he says, "I recently read," and then tells his findings.
When he does this he often uses a tried and true speaker golden rule, usually talking in examples of three. Example, "offended by what someone said (1), worried about a problem at home (2), upset because of a negative report (3)." He'll touch on work, family, and relatable life situations.
The short examples, lead to fully developed story examples of how you might experience the topic he's covering. He sprinkles in solutions as the story unfolds, with ways to deal with it in often in bullet like sentences:
Be selective what you give your time and attention to.
You cannot prevent all the negatives but don't dwell on them.
Guard your heart and spirit.
He does reference the scripture. When I was researching to see if any of his sermons had written transcript, I found some criticism that he rarely brings the Bible in. In the two or three messages I listened to, I found it to be sprinkled with scripture. He authentically brings in bible stories, as story. Sometimes he'd give the reference, sometimes quoting a short verse but most times, you hear his interpretation.
Every story is translated into the specific life lesson within the problem he's talking about.
5. Give your solutions
Osteen uses various transitional statements to get to the actions or advice around the issue. "My philosophy is." "What I do." "Here's a key." During what are more expanded ideas he pulls in his expertise: how God uses situations, bible story examples and those personal stories again.
Throughout each story, yes even biblical ones, he'll sprinkle in some humor.
6. Move smoothly to the conclusion
Each sermon has a specific time range of 27 to 30 minutes and that is something to count on.
Osteen is ending when he says, "We never like to close our broadcast without giving you an opportunity to make Jesus the Lord and Savior of your life." With that call to action, you know it's coming to a close. It's always the same, making me think of a rallying cry.
I used to end blog posts with something like, "Tell us what you think below in the comments. This introvert would like to know." I'm giving pause in thinking about if I want to do something like that again.
7. Bonus tip
When you listen to one of Osteen's message, you'll pick up on little phrases that end up getting quoted. One like, "Some of you today are not enjoying your life, but enduring your life," struck me as being tweetable.
Do you have any models you use in your writing?
What do you think of the idea of any of Osteen's speaking approaches as tips to make your writing better?