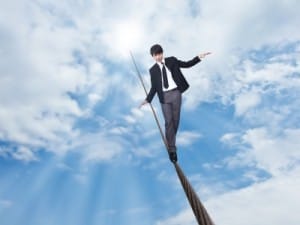 Have you ever felt or believed you were talented in or gifted with a particular skill and then when you try and write about it, you struggle? As a professionally paid speaker for many years I would not have thought that would be a situation for me, but it startled me to find myself almost speechless. Chapter six of Communication Toolkit for Introverts: Find your voice for everyday business success, is about success in powerful presentations!
This chapter begins by comparing the common occurrence of a presentation to a tape measure: if you have not used a tape measure in life, it's likely you have seen one. If you have not given a presentation in your work, you most likely have had to listen to one.
As common as presentations or public speaking is, some people would rather walk a tightrope over a high canyon than speak in front of an audience. The introvert and extrovert might likely be in agreement about it!
What is presentation power?
Over the years attending corporate conferences, I've listened to celebrity status people like Tom Peters the author of In Search of Excellence, Herbert Marcus of Neiman Marcus, inspiring speakers with messages of surviving prison during wars, overcoming odds of a disability and CEOs of corporations. Many speeches by people with as many real life stories, and messages that I can hear 10, 20 and 30 years later. Others who both bored me then, and leave me scratching my head now, "What was their message?"
How is it some people are able to take their personal experiences, their learning, and communicate a clear, memorable and powerful message? Is there any difference between and extrovert and introvert in being able to deliver that kind of message? It likely gets down to the individual.
But the introvert has some distinct advantages.
A powerful presentation, from an introvert?
Most memorable speakers are that way because of preparation and planning with their personalized message. While an introvert might get caught up in over preparation, planning is one of our best attributes to ensure our message is heard. And, while we don't often think about it, our listening becomes an advantage as well. What is powerful in a presentation is when the speaker adjusts some part of their message; the tone, the words, the pace, because they are tuned into their audience. They see and hear either the engagement or lack of it. Then, they adjust.
If I can just tame those butterflies.
Do an internet search about famous people afraid of public speaking and you will find references like: Kidman told Vogue magazine: "I panic in front of all the cameras. My hands start shaking and I have trouble breathing."
It's said Julia Roberts overcame stuttering as a child and now of course, is one of the most world-recognized actors.
You likely know of celebrity status people who claim this fear.
The point is, the power presentation or message, is about the practice, preparation and owning your space. One tip for the more introverted who might tend to shy away from accepting an invitation to speak or present: think about people who you easily engage with on a one to one level. Assess what it is about how you speak with them that makes the conversation personal and powerful. Then, bring those actions or traits with you next time you are asked to take the platform.
As it turned out, this chapter is one of the two longest in the book at 30 pages. From the personal presentation assessment you will find introvert specific, not just general tips for:
– the best preparation techniques,
– the most effective butterfly catchers,
– purposeful dual purpose gestures,
– how to tell stories that engage people,
– how to let your passion be heard,
– what you can do to keep people from dozing off and more difficult situations,
– and 30 pages of practical advice to make your next introvert presentation your best.
What makes you the most anxious about giving a presentation?
What do you do well when speaking in public?
Be one of many introverts who want to know first about Communication Toolkit for Introverts!
httpss://patriciaweber.leadpages.net/ctifirsttoknow/ Free report about 21 Ways to Break Out of Your Comfort Zone with sign up.