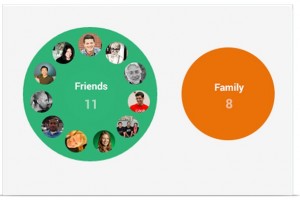 One reason many of us are so exhausted at the end of, or even during any one day is because of how technologically connected we are with social networks. It's not just the introvert who can be affected negatively with this energy drain.
Recently one of my online local networking connections, Mark Vang, reviewed in detail how you can take control of the growing and already popular, Google+ Circles. Here are some of my take-aways that are guaranteed to help you get some of your oomph back.
Google Circles can be managed.
I had no idea about this capability until a recent chat popped up with someone I didn't actually know, who I reciprocated adding to one of my circles.
Big mistake. "Google Chat uses circles to decide who can see that you're online and who can chat with you."
Understanding how this works and how easy it is to change the setting, I would it could have been relatively normal online day instead of an unsuspecting barrage of flirtations.
Find that setting now if you don't want to engage in this kind of chat. It's under the Settings tab. And look for, "Who can interact with you and your posts."
The kimono is not open.
There is an old 1990s expression I recently have heard, which means people should not have secrets between them, "open the kimono." One question to ask yourself about being online if you find it getting exhausting is do you want the public to hear about everything you want to share?
Are you on Twitter? Vang gives a perfect fitting analogy to Google Circles and Twitter: on Twitter everyone can see public Tweets by anyone. If instead you Direct Message someone only that person sees your tweet. On Google Circles, when you share a post to Public circles, everyone sees that post. So if you only want people in your circles to see your picture, video or content, then don't select either Public or Extended circles.
Google content versus Facebook or LInkedin content.
Vang writes about how information that you put in your Google feed can be a combination of both professional and personal content.
You may be using Facebook that way but I'll bet it's not so for you with LinkedIn? Facebook, being like a community picnic might have both business and personal conversations going on. LinkedIn, more of a business networking organization, will have a focus on more professional conversations.
For certain, Google right now has a combination and people have toleration for both kinds.
If you are interested in connecting with me on Google+ circles, you'll find me over  at Google, httpss://plus.google.com/u/0/+PatriciaWeber/ And if you put me into your Google Circles, I … well … I could add you to mine!
To learn more about taking control of your Google circles, and getting some of your personal energy back, read a most informative, almost step by step post, by Mark Vang at Google Plus Circle Management 101
How are you managing your Google+ circles? Do you have any tips to add to Mark's blog post? Add them here, we want to hear from you!