We're winding down this month's theme around romance.
As synchronicity would have things Michaela Chung's recent email to her subscribers, of which I am one, spoke to me to reach out to her to offer some of her thoughts about loving introverts. Here is an article just for you, by her:
#RomanceAwareness Month: Are Introverts Hard To Love?
I am an introvert. I have loved both introverts and extroverts.
And yet, I often feel like it's difficult for others to know how to love me.
Don't get me wrong.  We introverts are indeed loveable, and I know that I am no exception.  The thing is, people often go about loving introverts in all the wrong ways.
Whenever I think of one of my extroverted exes, a particular image comes to mind.  I imagine that I am a little blue bird in the palm of his hands. He is trying to show me affection, but ends up smothering me with his large clumsy hands. He doesn't know that you can't hold on too tightly to an introvert.  We need space to spread our wings.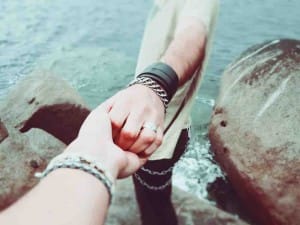 I don't blame him.  Nor do blame the countless people I've met who don't understand how to love an introvert. Extroverts have no frame of reference for our behaviour. Our needs are foreign to them, and our subtle ways of expressing them are easily misunderstood.  
Unfortunately, these misunderstandings can lead introverts to believe we are just too different, or quiet, or sensitive to love.  This is far from true.
Why introverts are loveable
The reasons why we love a person don't always makes sense.  Many of us are taught to believe that being good, and good looking are the most important lovability factors.
Introverts are taught that If we are a good citizen of the planet extrovert who ticks all the right boxes, we will be loved.  If we can't fit the extrovert mold, we are too "complicated" or "serious" to love.
Of course, this isn't the case. Often, it's the supposed flaws in a person that draw us to them in the first place. The qualities that are tied to introversion – those very qualities that society devalues – can be especially enticing.  
A beautiful anomaly
"I used to think I was the strangest person in the world but then I thought there are so many people in the world, there must be someone just like me who feels bizarre and flawed in the same ways I do. I would imagine her, and imagine that she must be out there thinking of me too. Well, I hope that if you are out there and read this and know that, yes, it's true I'm here, and I'm just as strange as you."  – Frida Kahlo
The classic line in movies is, "I've never met anyone like you before." On the silver screen these words are received as a compliment. In real life, this is not always the case.
An ex-boyfriend of mine once told me that I was "an anomaly". He was referring to my uniqueness. Part of me felt a surge of pride in my specialness. There was another part of me that felt discouraged. His words confirmed what I had long suspected – that I was, indeed, the strangest woman in the world.
Often, we see our strangeness as a source of separation, when in reality it can be a uniting force. Far from being a fatal flaw, our uniqueness is what makes us loveable. It's true that our complexity isn't always cute. It is so much more than that.
The mysterious stranger
"Margo always loved mysteries. And in everything that came afterward, I could never stop thinking that maybe she loved mysteries so much that she became one." – John Green, Paper Towns
Many are intrigued by the mysterious nature of introverts. After all, there are people out there who love a good riddle. The more complex the better.  
The old saying "leave something to the imagination" applies to more than just clothing. In a world that is so outwardly focused, the person who is inwardly inclined is fascinating.  Not only that.
There is merit in saving the best parts of ourself for a special few who have earned our trust.  Many people do the exact opposite. They spend all their energy and goodness on people they hardly know, leaving nothing for those who matter most.
The introvert oasis
Admirers are drawn in by our calm demeanour. In a fast-paced culture where busyness is the height of fashion, introverts offer an oasis of serenity.
Several times readers of my blog have shared about their relationship with an extrovert. Often, their extroverted partner sees them as their anchor in a tumultuous world.  They love the peaceful grounding presence their introverted companion brings to their home.
Liberating love
It took me a long time to realize that my introversion was not something to be ashamed of.  I thought that if I dropped the mask of extroversion I had created, no one would love me. Instead, embracing my introversion helped me to attract kinder, gentler souls into my life – people who knew how to love me without crushing my wings.
As for that little blue bird, she discovered that real love liberates.  As Maya Angelou once said: "Love liberates. It doesn't bind. Love says, 'I love you. I love you if you're in China. I love you if you're across town. I love you if you're in Harlem. I love you."
About Michaela Chung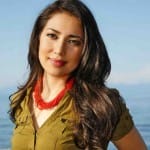 Michaela Chung is a writer, coach, and entrepreneur. She is the creator of IntrovertSpring.com, a website that helps introverts embrace who they are and play to their quiet strengths.
Download Michaela's free 50-page ebook Alone But Not Lonely: 7 Steps To True Connection For Introverts [ https://introvertspring.com/alone-but-not-lonely/ ]