It's amazing how many introverts have all kinds of tips for so much extroverting in our business world. So much that sometimes, like in this guest post by Marsha Shandur, the content has to be Part 1 and Part 2. Here are the first two of five easy and doable ideas in Part 1 of:
5 Scripts to Help Introverts Survive – and Even ENJOY a Networking Event
"Just be yourself!".
"Just talk to people – they're only people, just like you!".
"Have fun and relax – the conversation will come naturally!".
This kind of advice for going to a networking event is well-meant – but is advice that I find useless. For me, it's the equivalent of trying to teach me to cook by saying, "Just add some onion!" "Cook it for a bit, not too long!". The kind of advice that sends me into a tailspin – and leads to me ruining dinner.
When I'm nervous about something, I like specific instructions.
Because I spent so many years being terrified of going to networking events, I now like to give my clients scripts. Not just for how to get someone's card, or how to try and impress a big shot. I like to give them for every step of the way – including and especially for the most terrifying part of any evening: how to start a conversation.
Below are scripts for starting a conversation; further developing it; answering the dreaded "What do you do?"; asking if you can follow up with this person; and gracefully exiting a conversation that's run its course.
1. Scripts to start a conversation.
Here's a secret not many people are aware of: you know how scary you find it to strike up a conversation? You're not alone. Everybody is scared of doing it. EVERYBODY.
There will be one or two exceptions to every rule, but I can tell you – as someone who now loves going to conferences, and now makes a ton of friends at each one – that even I find this part totally nerve-wracking.
The difference between me and people who don't start chatting to strangers at conferences? I just suck up the fact that it's scary and push on through. To coin the title of Susan Jeffers' (brilliant) book, I feel the fear, and do it anyway.
Having said that, it's always helpful to have a script.
If it's a networking event, it's perfectly acceptable to start with,
Hello! I'm [name]. What's your name?
Simple and effective.
But if that feels too bold, there are two other options:
(1) Give them a compliment
In our Anglo-Saxon society, there seems to be a belief that compliment is embarassment. But who doesn't like to hear that they have good taste? As long as you keep it short and genuine, it's a great opener:
That's a lovely [brooch/suit/dress].
After they say "Thanks", you can then go to
I'm [name]. What's your name?
(2) Ask them a question
The easiest opener of all is to start with a question about something you both have in common – like the room that you're in, or the event that you're at.
An important rule: if you're starting with a question that can be answered with yes or no, you must follow it with an open one.
Some examples
If it's the beginning of an event, you could start with:
First:
Have you been to this event before?
Following:
[If yes]: What was it like the last time?
[If no]: How did you find out about it?
If there's a speaker (or panel):
First:
Have you ever seen [speaker, host or panelist] speak before?
Following:
[If yes]: What was she like?
[If no]: What do you know about her?
Something that will boost this script is if you know something about the speaker, event or venue. If you do some research in advance, you'll not only have things to contribute to conversations on these topics (which are universal to everyone in the room), you'll also be able to come up with good conversation-starting questions that you can ask anyone at the event.
Some examples
"I haven't seen Danielle LaPorte speak before, but I know her Desire Map series is about setting goals based on how you feel. What do you think about goal-setting?"
"This is also my first time seeing Derek Halpern speak, but I read on his blog that he thinks design is more important than content when it comes to websites. Do you think he's right? Why/why not?"
Remember: everybody finds initiating a conversation scary. If you can be the one to do it for someone else – they will be grateful to you for the rest of the event!
2. Script to further develop a conversation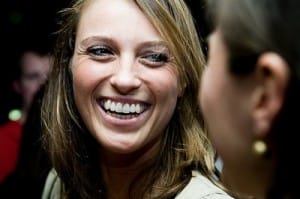 By now, you may be getting on like a house on fire. But if you're not – don't yet lose hope!
This is often the point of the conversation where you might ask each other "What do you do?". If having to answer that makes your stomach drop to the floor – don't worry, I have you covered in step 3. But before then, I'd like to suggest an alternative question. Instead of asking what someone does, try asking this:
How has your week been so far?
[then, after you get an answer:]
What was the best thing that happened?
I love this set of questions, because
it's a little bit unexpected (but not totally wacky)
you'll find out what someone is truly passionate about – which may be unrelated to their work (and may be something you have in common)
people can answer it with as much or as little detail as they like (important if they're also an introvert!)
it's the sort of familiar question you'd ask your best friend – so creates a sense of familiarity between the two of you
How do you open a networking conversation?
What works for you to move the conversation along and, survive – and even enjoy a networking event?
Marsha Shandur is a Networking Mentor. Through her buiness Yes Yes Marsha, she helps coaches, freelancers and entrepreneurs who are brilliant at what they do – but not getting the success they know they deserve. Through her business Yes Yes Marsha, she helps them boost their visibility and get discovered by their dream clients, by showing them how to get noticed by, and build genuine relationships with key players in their industry.
Find out more at YesYesMarsha.com