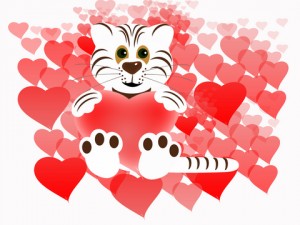 On February 14 the Chinese New Year, the Year of the Tiger and Valentine's Day share a day on the calendar. Valentine's Day, the day of lovers and affections, contrasts with the Tiger.
The Tiger's influence can offer us courage, invite us to take bold actions and risk taking. Tall order for introverts? Maybe not.
Regardless of which holiday you celebrate, and even if you celebrate both, 2010 is the year for the introvert to both love our self and take bolder actions just being who we are.
Here are six tips to balance this day of contrast as an introvert:
• Since Valentine's Day is always so crowded at restaurants, celebrate with your sweetie on another day.
Relish that alone time.
You could cook a special dinner and stay at home.
• You could
brave the crowds
if you like: take advantage of the collision of holidays and venture out to a Chinese restaurant because it's likely they might be open. It could be a celebration of love of family if they live nearby you. You accomplish love, family in extroverting style on your timeframe.
• While the fireworks of the Chinese New Year are right outside,
be bold and be yourself
. Grab that book you've been wanting to read and just curl up and do it. Or hey, maybe you're a bath person – then get in that Jacuzzi for about an hour. Postpone celebration to during the week when the fireworks are done.
• The Chinese have their own Valentines Day and so the global Valentine's Day won't likely crowd out their biggest day of any year. Follow their lead and
celebrate what's most important to you
on this coinciding holiday: time alone, time with your loved one or time with family.
• How many people do you need to celebrate either holiday? If your preference is to be with a few close friends like mine is, then make that happen. If for some reason you feel more extroverting, then celebrate with more people.
The choice is yours.
•
Choose to celebrate both ways
: maybe midday choose to be with a lot of friends and then settle in after this with a small intimate dinner with your babe.
Both holidays are a day to celebrate: Valentine's day for love and your loved ones, and the Chinese New Year to welcome in another year to have more love. This year, everyday, be bold in your celebrations and place the most important love on yourself.
How are you going to choose to celebrate?