"Pass," is usually my first reply when the first question or problem is posed in a brainstorming session. As an introvert corporate trainer giving workshops about this process, and using it during them, right from the beginning I would make saying "pass" acceptable for everyone.
Maybe you don't know? Introverts prefer a little time to think things over. That's why typical brainstorming – fast-paced and heaving breathing – don't generally work for us getting our best ideas heard upfront.
But what if you want to get some expertise advice for your next blog post because you're feeling in writer's block prison? Now there is a brainstorm tool for the introvert who wants to either get ideas, or contribute to helping someone else, on more introverted terms.
Brainstorming: bane of most introverts but writers block tool for bloggers.
In just starting to use this, maybe some of the more expert and longevity members of MyBlogU: Collaborate to Create Epic Content, will add their valuable comments.
Membership required to brainstorm –

In my experience all members are professional and want to help or want you to help them, with a blog post idea. I waded in, kind of like an introvert swimming pool dip, by providing my answer to a particular blog post idea. Having no attachment to acceptance or not is most helpful.
Post your brainstorm project –

My next was to post a request for an introvert video series I am writing. This garnered six ideas for me, which I elaborated and somehow credited the blogger for, soon to be found on that series.
3. Say yes or no to any idea –
It makes it easy enough to approve or reject an idea sent through this project. Right now I'm waiting on an up or down vote on my answer to "Why you love coffee and which is your favorite brand?" I explained all about it on my answer in the project request. That was fun! I don't like rejection anymore than most people however I never take it personally.
I've said "yes" to the first five ideas I got for my brainstorm project for my recent blog post idea request, around coping with presentation jitters from the introvert perspective. They're spot on for the introvert. Here's a peak at what things look like in the Brainstorm project area.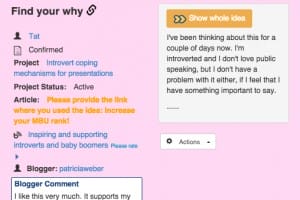 Thank you Tat.
Thank you Phil Turner.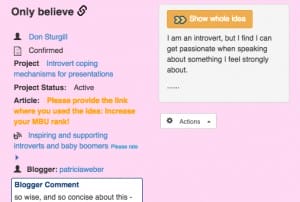 Thank you Don Sturgill.
Thank you David Leonhardt.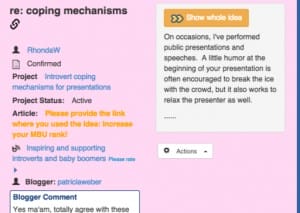 Thank you Rhonda White.
Yes; the ideas each of these members graciously suggested, will likely add to my video project too, as well as be another blog post. NOTE: I stated my purpose in each project so people would know how their idea would be used.
Help promote someone's brainstorm project on social media. MyBlogU makes that easy too! This helps everyone get more exposure.
This new tool affords you:
boost creativity
get to connect with more quality bloggers than what you might already have in your network
gain and give exposure
BONUS idea, for me and maybe for you …
#Infographics can be easier than imagined with the right tools. No need to hesitate.
Have you ever signed up for an online social media tool, soon forgetting about it? I cannot tell you how many times I've done this.
With the answers to my brainstorm project request it dawned on me, why not create an infographic?
Here's my first attempt:
Okay, so it's a little rough. Sure. But at least it was lower hanging fruit than creating a video, and it got done!
You might have interest in checking into MyBlogU as a community without registering for the site membership, which is free. You can get to know some of the members in an easy way, if you have time.
Twice a week they offer the opportunity to learn about the benefits of their website through tweet chats at twchat.com Connect with Ann Smarty on Twitter or follow –  #myblogu – and find out more.
How do you feel about brainstorming? And are you more of an extrovert or introvert?
How does this Brainstorm Project look as a blogger tool?