Thank you to Ellen Brown for believing in and nominating my blog for the "Kreativ Blogger Award". Ellen H. Brown, is the founder of Wellness Journeys . She helps clients create healthy, balanced, and peaceful lives as a coach.
When I got Ellen's email I was winding down a two-week visit with my mom and starting to think about the trip to Kentucky for one of my husband and my last Concours d'Elegance this year. So before we leave, in completing the responsibility that goes along with this nomination, I'm fulfilling this obligation with such recognition:
• Thank the person who has given you the award – Ellen, you hopefully received my email and my post at your blog with my appreciation for such recognition;
• Copy the logo and place it on your blog – It's here just below and a bit to the right;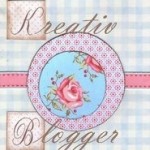 • Link to the person who has nominated you for the award – that's Ellen Brown, The Wellness Coach;
• Name 7 things about yourself that people might find interesting – as an introvert, I always cringe with such self-disclosure so if you know these things about me already, I think you will agree they are somewhat interesting:
1 – In the late 1990s I owned and drove a Harley-Davidson motorcycle;
2 – My first career out of college was an elementary school teacher;
3 – It's mainly because of my extrovert husband, who I regularly thank, for so many life adventures like boating, flying airplanes, traveling the world, our car hobby and much more;
4 – My family all still live on Long Island NY where I was born and raised. I'm the only one who moved and maybe that's a big reason my family is so important;
5 – Waaay back (too far too say) my husband, son and I lived for 2 years in Turkey, Incirlik CDI, while my husband was in the Air Force;
6 – Finally figured out my obsession with and why I have so many pairs of shoes;
7 – One of my favorite things to do is have intimate dinner parties with small groups of people, no more than 6 and the two of us, in our beautiful home.
• Nominate 7 other "Kreativ Bloggers", and post links to their blogs – Here are my nominees:
1. Jim Sutton, https://www.jimsutton.naiwe.com/ – I met Jim on a Blitztime networking call at the end of February. Becoming friends quickly for me is odd unless you meet someone as positively engaging as Jim. We now collaborate and talk about twice a month. Jim is a consummate networker at LinkedIn and readily shares his findings on his blog.
2. Kim Murphy, https://kmacopy.wordpress.com/ – Kim and I were having a fine time tweeting back and forth with words we were making up. We had so much fun we decided blogging about it. We've talked on the telephone and hope to figure a way to connect further. Kim is a marketing copywriter.
3. Bonnie Dubrow, – Thanks again to Blitztime, I got to meet and further get to know this energizing extrovert who calls herself, Energizer Bonnie. She and I am Jim collaborate together and with her expertise on marketing her blog is cutting-edge information.
4. Gail Foley, https://www.heycardlady.blogspot.com/ Gail is one of about six SendOutCard entrepreneurs who back in 2006 I met on an online networking website. She was the only one of the six who walked her talk about the cards. I signed on with her as an entrepreneur and we've been friends since then. She's as extroverted as I am introverted and her blog is a wonderful testimony to building relationships.
5. Lee Ann Lambert, https://livingintroverted.com/ – It was a joy to meet Lee Ann. Her posts will ring true for any introvert and as she proclaims herself an "introvert activist", she is an inspiration to any introvert.
6. Judie Elise, https://uniquefamilylife.blogspot.com/ – Judie and I met on the Twitter introvert group. We clicked immediately. I think it was more because we are both from New York than that we are both introverts! This lady is amazing and so is her blog about living as a family of invisible illnesses and disabilities. With seriousness but fun she's an inspiration to all unique families.
7. Barbara Lopez, https://brightfarm.typepad.com/ – What a niche! She's the Elevator Pitch Coach who I met through networking with someone else. That someone else introduced us and wow! Barbara and I are on the same age with boring, self-centered, ho-hum-make-me-yawn introductions that it was just meant to be a connection. Hurry over there now and find all the ways she can turn your spiel into interesting, other-focused and "Wow! How do you do that?" responses.
• Send the nominees a message to let them know they have been nominated – and as I complete this post I will be doing just that!
There. I'm complete I believe.
And again I am most grateful for Ellen's nomination of "Kreativ Blogger Award". And just as I hope readers of her blog find mine to be worthwhile, I hope you will also enjoy the information of the bloggers blogs who I recommend. Just MAKE time, SCHEDULE it if necessary, to visit each one and read about and learn from these various masters of their trade.
Do you have a blog that you want to mention? A blog you've been inspired with? Made a friend with the blogger? Or for some reason want to recommend a blog? Will you post it here?