If I had left Facebook (something I consider now and then) I would likely have not received this timely notice about this blogging nomination from one of my long time online friends.
I feel so grateful that Biba Pedron, nominated me for the writing I do. Biba is The Connection Queen. I met her in an online speed-networking venue that is no longer open. It was one of the most innovative online social media sites because it was a speed-networking environment, online. Biba blogs at http://theconnectionqueenblog.com
Thank you Biba for thinking of me. I'm delighted and honored. What a wonderful way to kick off the New Year indeed.
Very Inspiring Blogger Award to Kick off the New Year content and rules are as follows:
If you accept this award, as a recipient you need to:
Thank the person who nominated you by linking to his/her blog
Display the award logo on your blog
Link back to the person who nominated you
State 7 things about yourself
Nominate 15 people, link to them, and notify them about their nominations
Now to that 7 things about me:
1. People tell me I look younger than my age, which sometimes irritates my husband.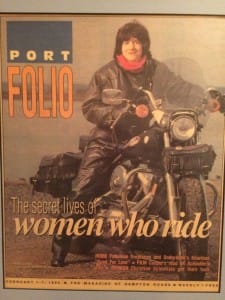 2. In the 3 years I drove a Harley Davidson, I ended up horizontal 2 times.
3. My husband and I have been to many places in the world, including trips on 13 cruises. My favorite place is Alaska for this kind of vacation.
4. We've built four custom homes and are getting ready to built a 5th and final. It's time to take the elevator to downsizing.
5. When my husband surprised me with a "this is your life" kind of video for my 50th birthday, we surprised all the friends and family attending by videoing them while watching the looooong 30 minutes.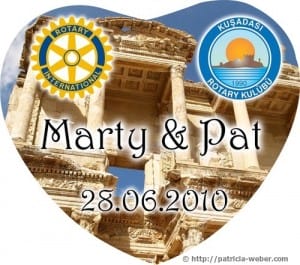 6. My husband knows I hate surprises but he continues to do so. In 2010, on way to the Greek Islands from Ephesus, Turkey, he arranged with his Rotary buddies there to ask me to renew our vows. It was hard to say yes again, but after he asked three times, and the minister said, "Please," I did. I said, "I do" again.
7. I'm truly an introvert. I'd rather be at home, than anywhere else. When most people get cabin fever, I'm in heaven, as long as it's not more than 2 or 3 people waiting out the inclement weather.
And here are 15 bloggers, in alphabetical order by first name, whose writing you must read.
AK Andrew at https://akandrew.com/ – she is a writer who blogs about writing, both her own and authors she admires
Ann Smarty at https://myblogu.com/blog/ – this is one smart lady with online community ideas that are endless, and blogging all about blogging.
Arleen Harry at https://www.garrettspecialties.com/blog/ – promotional products blog showing the benefits of marketing and advertising with promotional items.
Catarina Alexon at https://catarinasworld.com/ – A visionary from Sweden. Her writing will stretch your thinking to question what you might think you know.
Cheryl Therrien at https://grandmotherdiaries.com/ – Cheryl has what she calls an "adventurous" mix of topics from techie, to product reviews to giveaways and more.
Ivan Ho at – This is about online marketing strategies that make money, and how to use blogging – make money. An incredible wealth of knowledge from an author and Internet marketing consultant.
Jacqueline Gum at – Her title communicates what perspective she takes, Confessions of a Corporate Slut. Men and women can relate to everything she writes about with humor and style.
Jeannette Paladino at – Another person I met online who I have collaborated with. She calls herself a "communicator" and blogs about blogging, social media presence and branding.
Jeri Walker-Bickett at https://jeriwb.com/ – Make sure you cross all t's and dot all i's in your writing. Her Make Every Word Count blog has Monday morning posts and topics cover writing tips, books, and more.
Krystyna Lagowski at – blogs everything automotive including pedestrian rights but I most love, her car reviews
Lenie Hokanson at – which is all about frugal living. Love her recipes and shopping tips.
Leora Wenger at – She blogs for small businesses on topics like, WordPress, Twitter, social media and more.
Maxwell Ivey at https://theblindblogger.net – You would never know he is blind as prolific as he is with writing. Awe inspiring posts.
Susan Cooper at https://findingourwaynow.com/ – I met Susan years ago in a blogging mastermind group. She blogs about food, wine, and life stories. All being dyslexic.
William Rusho at https://warusho-author.blogspot.com/ – William is a new author, business analyst and professional wrestler. His blogging covers his writing journey, his book and other life topics.
Ok. I know it's 15 required but I would like to recognize my closest Packt Publishing author friend, Bob McIntosh, CPRW, a career trainer who leads job search workshops at an urban career center.  He's an introvert and blogs all things career related at https://thingscareerrelated.com/
It's honor to know these men and women through their writing. They inspire, connect with the reader and let their authenticity come through.
If you are nominated, please do accept! Who doesn't want an award? But if you cannot honor the requirements, I'm grateful to know you to list you here and just – let the light shine on you.
How do you feel when you get an award?
What is an award you might be aspiring to this year?