Everyone experiences grief differently regardless of their personality preference. There is little research on the personality connection to loss and grief. Most available research is inconclusive.
I've been in my head a lot with the death of both family and friends in the last month or so; it seemed right to offer some insights more from personal experience.
"Travelers, there is no path, paths are made by walking."  Machado
Coping more easily with loss and grief as an introvert
A coping resource in mutual friends
At a funeral service, there is likely at least one other person in a shared circle of friends and family who we know. Often talking about someone we just lost can comfort us and help us to move through the feelings and emotions of the situation.
Neither my husband nor I enjoy the viewing time at funeral services. The recent death of a friend was so sudden, while the room was filled, people didn't have time or resources to travel from the most distant places from around the world.
We only knew one person in a room of about 150 people.
But have you ever noticed how at funeral services, people are in small groups consoling each other, crying, laughing – grieving?
One bit of new research points to introverts, more than extroverts, being "better socially calibrated than extroverts." One meaning this might have is in such an environment as a funeral service introverts can be more tolerant of a range of behaviors.
For some of us people are a coping resource. If you don't find it to be the case, I encourage you to try to break out of your comfort zone. Find that small group in which there is just one person you know and join them.
Our solitude preference
Solitude gives introverts energy. During the loss of someone we love, it's wise to give ourselves permission, to take more than is standard alone and quiet time.
My husband was initially more contemplative than his extroverted self when his younger cousin died. He quickly found his energy from being around the rest of his family more, a lot more.
The final night of the funeral process he masterfully gathered up a group of about 14 of his cousins. Within minutes, even with the visiting line still out the funeral home door, seven cars headed to one of the city's local restaurants.
We are most supportive of each other particularly in times like this so of course I joined and made the best of things. Once we arrived, I offered to take pictures as needed.
"There is a fellowship more quiet even than solitude, and which, rightly understood, is solitude made perfect." Robert Louis Stevenson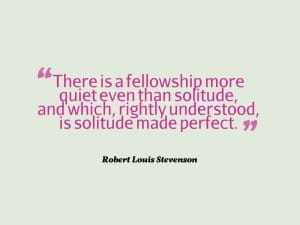 Paying attention to our inner voice can help us make better decisions to take care of ourselves at this time.
Grieving is not a race but a process. We want to honor it in a way that respects who we are, as well as the people around us.
Time does heal, but not erase
We don't need timetables with loss and grief. Regardless of what your personality, it's important to take the time we need when we experience any kind of loss or grief.
My time, to grieve the loss of our beloved dog Chanel of 16 years took longer than my husband. I also found journaling in a different way to be helpful.
About a year before we had to make a decision to help her out of her pain, I happened to have an accountability partner. This woman and I met on the telephone about once a week. When she learned about my loss, she asked if she could offer a fabulous idea that she found worked for many of her friends and family. You bet I said yes.
For about six months, I journaled as if talking with Chanel. It was telling her how much I loved her and knew she had to be enjoying more tennis ball chasing now. In a deeper, maybe prayerful way, I reconnected with her. I still often think about her now, two years later.
We introverts do need more time to explore our feelings particularly in such times as grief and loss.
Full disclosure: I'm not an extreme introvert, and I am a rare type, in the USA population (2%) and women (.8%).  My MBTI assessment tells me over the years, I'm an INTJ.
What does this mean in regards to coping with loss and grief?
Likely nothing.
Grieving is a private and personal experience. There are absolutely no two of us who will experience loss and grief the same. We're all here on planet earth living our physical experience. Finding ways to coping more easily with loss and grief as an introvert is one more step in that process. 
How do you manage coping more easily with loss and grief?