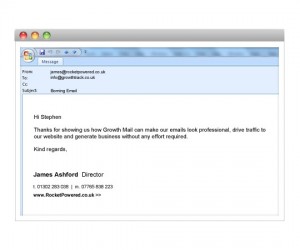 Official mails remain incomplete until you endorse it with a customized email signature. An email signature brands your business and adds official essence to your message. The concept of a signature always works when you're communicating with your clients and associates in an official way. Here, you'll explore some innovative ideas about preparing a good email signature and mistakes you must avoid while creating an official email signature.
5 Tips on creating professional and innovative email signatures
Experts at Growthmail are always conducting studies on email etiquettes and observing the changes in the trends. They have been continuously working on a globally accepted official signature system for emails. Let's explore some tips on creating signatures that convey more professional yet more personal messages to the clients and associates:
1. You should keep the signature short and simple. You have to include the emergency contact information for reference. You have to keep the design clean and simple. You should include your name, company name, website address and contact information in a formal message.
2. You should be very careful about HTML formatting. Some users might fail to retrieve the information due to incompatible formatting. You should make some tests before mass sending emails containing a new HTML email signature. Growthmail lets you ensure the formatting is maintaining a universal standard.
3. You should create an email template. A professional template will make your email campaigns easier and efficient. Today, email marketing has become an effective strategy to market and launch a product or service. You should include the signature into the template to make your emails predefined and ready for a new campaign.
4. Nowadays, most business owners, associates and officials are using mobile devices like smartphone and tablets. You should optimize the signature for all these latest devices you've been using. Make sure you're using the same signature in all devices you use to send official mails.
5. The email signature should contain graphics and texts simultaneously. Many times the recipients fail to retrieve the logo or brand image in an email. So you should create a signature that conveys the information you're willing to share with the recipient.
3 mistakes you must avoid while preparing an email signature
1. some business owners and corporate users make a common mistake regarding email signatures. Growthmail experts say about 40 percent senders don't follow the basic rule of signature or branding. You must avoid using different signatures; rather, you have to create a unique and elite signature to include in your business mails.
2. Growthmail experts recommend using signatures that simultaneously contain image (business logo) and text. But you must avoid using a single form of content in the signature. You should never create a image-only signature.
3. Finally, you should stop using fancy, heavy email signatures while conducting official and formal communication with anyone. Consulting an expert from Growthmail can help you understand what a professional signature must have.
Email-etiquette experts are continuously working towards building an international standard of virtual signature. Growthmail has been trying to help the clients and encouraging the professionals about creating powerful virtual signatures in emails. If you're worried about the signature you use in emails, consult an expert and take action immediately.