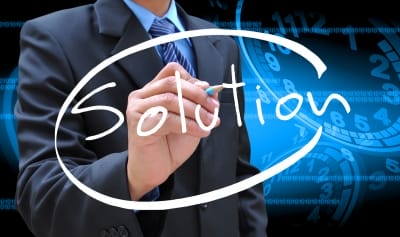 Outside of public speaking engagements, there most likely isn't anything higher on the list of "least liked business activities" for introverts than proactive selling. From cold calling and pounding the pavement, to asking a potential prospect for the sale, proactive sales skills usually fall well outside of the core competencies of most introverts. And while consistent time and practice can bring a new level of comfort with performing these functions, chances are that it will never become a core strength that is anxiously anticipated. So in order to surpass the extroverted competition, introverts must come up with other ways of leveraging their strengths to effectively compete in the sales world. The following four sales tips are not only proven characteristics of high performing sales people, but they also capitalize on the innate skills of introverts.
Pay Close Attention to Each and Every Point of Contact, Regardless of How Trivial
As sales representatives, we offer a unique vantage point into the organization on the whole. The ways in which we interact with prospects say a lot about the style and tone of the organization as well as the way that prospects can expect to be treated once they become a customer. Most prospects know that it's important to pay close attention to all of the interactions that they have with you, as these interactions will be leading indicators of future performance. If something rubs them the wrong way, it may be reason enough to steer clear altogether. Similarly, if they feel comfortable with the interactions, then they may very well choose you as their provider. As an introvert, you can use your self awareness to your advantage and adapt your interactions to meet the needs of each individual prospect by paying close attention to the verbal and nonverbal clues given by the prospect.
Make Sure You Provide Lightning Quick Response Time
Many a deal has been won or lost simply due to the response time of the sales representative. How quickly you respond to the requests of the prospect says a lot about how much you value their time. And the quicker and more consistently that you respond to each request, the more likely you are to win their business. This is a very significant factor in the decision making process, and it's something that introverts can use to their advantage. Rather than having to "perform" like a social butterfly, it's somewhat comforting to know that prospects greatly value the quickness and thoroughness of each response. Of course, most sales representatives, even extroverts, tend to put their best foot forward for getting pricing proposals to prospects in a timely fashion. But take it a step further by attempting to be the first to respond at every point in the process. This will give you a serious leg up against your competition.
Make it a Point to Act as a Consultant Instead of a Sales Rep
One of the greatest sales tips of all time involves the notion of doing everything that you can to make sure that you don't look like a sales rep! Instead of conveying to the prospect that you're only interested in winning their business, attempt to establish the perception that you are a trusted consultant. Consultants don't cram useless information down the throats of prospects. Instead, they help the prospect learn more about their needs and find the best solution to their problems. This takes a huge weight off of your shoulders as an introvert, knowing that you don't have to "perform". Instead, the value that you offer is in giving excellent advice and being able to answer any questions that they have about your product or service in general.
Use Your Strength as a Listener to Your Advantage
Unfortunately, it's all too common for sales consultants to speak predominantly about themselves. From awards their company has won, to customers they service, to services they provide – most sales representatives talk more than they listen. Highly successful sales people, on the other hand, understand that most customers are unique in their needs, and ask many detailed questions of prospects to determine what's important to them. For the introvert, listening and asking probing questions that explore the true needs and desires of the prospect make the entire sales process less intimidating, while at the same time give them a tremendous advantage over the competition.
Will Schneider is President of FulfillmentCompanies.net, an online service that helps businesses find pre-screened Fulfillment Houses. He is an advocate of the Sandler Sales Training methodology, which has helped him overcome his introverted tendencies in the sales arena.
Are you more introverted or extroverted?
How do you leverage your unique innate skills in listening?