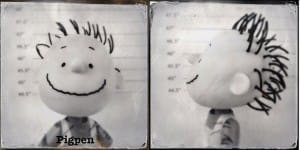 The character Pigpen in the Charlie Brown comic strip is the little guy who is, except for rare occasions, very dirty.
In his first in-print appearance, he stated, "I haven't got a name . . . People just call me things . . . Real insulting things." Sometimes I feel this is almost the way with introverts; people call us things and sometime insult us. But we can take lessons from Pig-Pen.
Pig-Pen gets dirty just walking in a snowstorm. The dust clouds stay with him for all but a few of the briefest of periods.
If you are under an illusion that you are shy, aloof or even anti-social, then you are walking around in a snowstorm, which keeps you from being all that you are.
The dust cloud around you distorts your vision, both of yourself and others, and it needn't be that way.
Let the snow melt! Let it stop landing on you.
He doesn't try to explain it, hide it, or fight it. Pig-Pen is mostly right: stop hiding and stop fighting.
As introverts it is however sometimes worthwhile to explain ourselves to others. If they try to coax our shyness out of us, let's explain to them, it's not a shy issue. If they ask us why we are so quiet, let's tell them we need time to think. Then let's use that time to listen more.
Decide where the line is for you – to fight it or explain it. Use your strength to get quiet inside and then take action.
Even in a Halloween costume, everyone knows he's Pig-Pen, since under it is a cloud of dust. What's the point in pretending we want to be the life of the party? That puts undue stress on us and in the end serves no one well. You don't need the Halloween costume.
Like introverts trying to act like extroverts, it does us little good personally when we try to be like extroverts.
We can absolutely learn the social skills we need and want to learn.
Let's honor ourselves by doing what we need to so we feel and act our best. And when you do put on that Halloween costume, make sure it's for fun.
On rare occasions, like once to impress a maybe heartthrob Violet, Pig-Pen showed up clean but unrecognizable. Being awarded twice, a Networker of the Year award by a local women's organization, it's likely someone might draw the conclusion that – I go and yap, yap, yap about myself, collecting as many business cards as people once collected baseball cards, attend a networking event every night, and more. I'm not out to impress anyone in this way. Besides, whom does that impress?
What keeps me recognizable is – an other focus. Focusing on how either my my connections can help someone else or if they might need some other resources.Then, how my work might be useful to someone. I connect others to whom they want to meet even when I arrive and leave early. Oh yeah, I'm recognizable, in my introvert way.
Let's stop walking around in a cloudy dust of misinterpretations about ourselves. Introverts have many strengths those clouds are hiding.
As Pig-Pen might say, "I have affixed to me the dust and dirt of countless ages…who am I to disturb history?"
Let's make some history introverts.
What are your clouds of dust?
How are you handling them?
animated gifs from https://giphy.com/
Originally posted JANUARY 1, 2010.