We know that goal-oriented people are mostly successful, happier, and more productive. But setting and keeping goals is a skill, and like any skill, there are good and better ways to doing it.
One thing you might find helpful is separating your goals into behavior-based and outcome-based models. There are a few differences between the two, and knowing which is which can be key.
Steps To Turn Daily Focus into Successful Goal Achievement
Outcome-based goals are changes you make to your performance.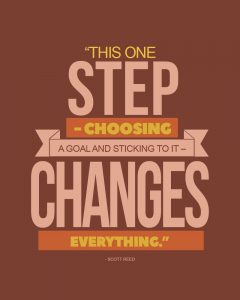 For instance, getting to inbox zero, reducing the number of writing errors you make, and getting projects done on time are all outcome-based goals. They focus on the outcome or results of your actions, rather than how you feel about performing your tasks.
Feelings come from the outside world. An experience happens, we react and then we feel a certain way. For example, someone compliments you on how lovely you look in a new shirt. For a while, you feel happy about this, but as days go on, feeling happy subsides.
Emotions are different than feelings. Typically emotions come more from inside sensations like thoughts or memories. Let's say you think about that happy feeling for days and days. The emotion of joy may develop, but the trigger event is long gone.
Bottom line, our feelings are triggered from our outside world and emotions are made from inside our mind.
Outcome-based goals tend to be easier to quantify. If you are familiar with the SMART acronym for goal setting, you know the M equals measurable, or quantifiable.
You can count the number of emails you respond to before lunch and can keep track of the amount of time you spend on an individual project.
Our progress is so much simpler to quantify. For this reason, most people focus on making outcome-based goals.
Behavior-based goals are typically changes you make to how you act.
For instance, handling stress better, being kinder to others, and spending less time procrastinating are all examples of behavior-based goals. They focus on how you feel and behave, rather than just looking purely at the results of your actions.
Behavior-based goals play into outcome-based goals, but they aren't the same.
When you change how you think and feel, often you'll notice a change in results. But that's not the focus; it's just a pleasant side-effect.
To make behavior-based goals, you'll need to reflect on how you feel when you're completing a particular task. Do you get snippy with coworkers in the mornings, or feel tired when you're trying to meet a deadline?
Focusing on the way you feel when you aren't performing well, then making a real effort to change can help to make you more pleasant and productive.
Making Them Work Together
The real key to success is melding behavior-based goals with outcome-based goals. Often you can get to the root of a problem by changing your behavior, and then watch as your outcomes change.
Behavior-based goals programs focus on short-term being and doing activities. You can write them down and check off so that you have a feeling of success.
As you focus on behavior-based goals and you achieve those goals on a daily basis, over the long term you eventually hit those results-based, traditional outcome or result goals.
But a behavioral-based program allows you to generate that feeling of success on a short-term basis.
So instead of focusing on, "two years from now I want this amount of money," we focus on, "Today I'm going to express gratitude." "Today I'm going to do a workout." This goal becomes our focus.
Every single day, we achieve our goal. We focus on it, check it off and feel successful, day after day after day.
Sometimes it's hard to separate the two, and that's okay. Just keep in mind, your performance is a mix of both. Having the right mindset is just as important as working hard to succeed.