It's a new year, and many of us are thinking of goal setting and possibly starting with behavior-based goals. From experience, they are a sure fire way to propel your outcome based goals! Now, How To More Easily Reach Your Goals With Behavior-Based Goals.
We usually think of goals that are a particular outcome. Some examples include:
Lose 20 pounds.
Increase income by 10%.
Buy a larger house/newer vehicle.
Run a marathon.
Save money for college.
Of course, these few are more common goals that people set for themselves.
But what if we based our goals on changing behaviors instead of obtaining a particular outcome? Could we modify or completely change behaviors that would lead us to the desired result quicker, healthier, and with less stress? Some experts certainly think so.
In my experience, without knowing of the term behavior-based goal setting, it is a steady, and purposeful process to lose weight or do a particular thing. But I have usually made the behaviors the action items.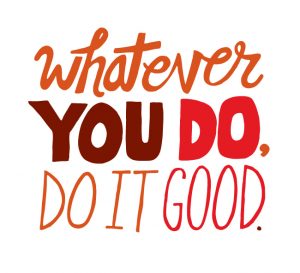 Behaviors as regularly planned habits for goal setting
Could it be that if we focus on the behavior we want, make that behavior a habit, that we reach the goal more easily, and with more joy?
Many times, when we set goals, we focus on the negative, i.e. what we don't want rather than what we do want. My understanding from learning from studying some masters in the field – people like Brain Tracy, Zig Ziglar, and more, is that focusing on what we DO want is infinitely more productive.
Ripple effect of behavior-based goals
Behavior-based goals focus more on the behaviors we want to strengthen rather than the negative actions we want to remove. Seriously, if you set out to, "quit smoking," what do you see in your mind?
In enhancing the positive responses, we change the way we act and react in many situations – not just situations surrounding a goal that is outcome-based. The ripple effect of creating more positive behaviors in our lives affects far more than just what we may have had in mind when creating the goal.
Focusing on behavior-based goals, something more like a habit, rather than outcome-based goals, like saving more money, has a ripple effect. Consider smart companies that know when behavior changes for the positive; the employee is happier not only at work but in their personal life and family life as well. A happier employee is a more productive employee. So these days we can find managers learning to integrate behavior-based goals at each employee review.
This type of goal-setting isn't seen just in the office, either. Personal trainers, coaches, psychologists, therapists, and so many other professions add behavior-based goal setting to their repertoire of techniques. Focusing on behaviors helps those in these industries to help their clients reach success, whatever that may mean to them.
Move faster toward your outcomes
Goals that change behaviors are a kind of intermediate goal that helps one achieve outcome-based goals easier, faster, and with more residual benefits. Like that daily habit action item I mentioned earlier. Strengthening a positive behavior to reach a goal will make it stronger in every situation where we use that behavior.
With all the significant life events last year, I by treating myself more kindly I could – be at peace with life. But, that is your typical kind of outcome goal. Instead, I upped a particular behavior I am already doing daily – meditating. At first, my three-year long practice of meditating daily for 10 to 20 minutes went to twice a day for 10 to 20 minutes. It truly helped with my guilt, sadness, and grief.
In other words, changing my daily habit in this particular goal, by increasing time in meditation, is moving me toward my outcome goal to – be at peace.
Try setting a few behavior-based goals of your own, and you'll see that positively changing a behavior helps in so many different areas of your life. The results are great, and your new positive behaviors will serve you well for the rest of your life.
By the way, we can always change the behavior as we go along because as results appear in our outer world, we can say to ourself, "Hey, I'm on to something!"
Stay with me as we explore more about behavior-based goal setting in upcoming posts, ideas around:
–   using behavior-based goal setting in work and life
–   rewards in behavior-based goals
–   making and using these "more like habit" goals
–   difference between behavior and outcome-based goals
–   advantages of goals around behaviors
Maybe also the SMART formula even though, many of us are familiar with it and might use it too!
Question – Do you already set behavior based outcome goals? How do they work for you? What tip can you share around goal setting?