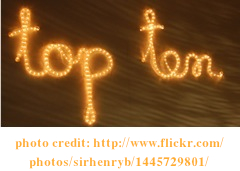 It didn't start with Dave Letterman and it won't be ending any time soon. Today there seems to be a top ten list for everything. Why not use the beginning of the year to post a Top Ten List, of whatever you want? No one list is likely going to be the same.
Here is one of my lists, in no particular order, of what I believe to be my Top Ten 2012 Introvert Blog Posts, created over at https://list.ly/
NOTE: You can read any particular post by clicking on it's link or if you are a follower of my blog, you can VOTE a particular post one that you took interest in.
Do you have a  Top Ten List you would like to share here?