Just when you thought you heard of every holiday – Introvert Day on January 2nd, Act Happy Week in March, Baby Boomer's Recognition Day June 22, and many more. Some days celebrate more than one thing.
There may be other holidays on January 10 but the one each of us can celebrate is Peculiar People Day. Even people responsible for finding the origin of holidays couldn't track things down. They speculate it might have something to do with a branch of the Wesleyan church, named Peculiar People. Who knew that?
If you like using any excuse for a holiday like I do, then now's the time celebrate your unique and peculiar style on January 10.
Everyone knows someone peculiar.
We likely all meet people everyday, or have someone in their family who we consider to be authentically peculiar. Without naming names I know – a hoarder, a drug addict, someone who wears their pants to let their butt show (yuck), someone who opens their mail just once a month and my list could go on.
For us more introverted, if we consider ourselves peculiar it's likely in a different, maybe peculiar way. Here are some kick-start ideas for you to consider how to move forward from thinking peculiar to unique.
Let your light shine.
Why try to conform? Then we just blend in. If you think, "Oh, but, by standing out people notice I'm different." We're all different!
What's really peculiar is some people find their differences inhibit them and others find they give them distinctiveness and power.
Are you letting your light shine, or are you hiding it?
Brighten up your life.
It's winter. Considering it might be already kind of dim and dreary in some parts of the world because of the time of year, we might even need to brighten up our life. 
You could try adding some bright colors to either your wardrobe or your environment.
When there is sunshine, get out and let it shine on you.
Are you practicing daily gratitude  I've found this to be one of the most uplifting couple of minutes of my day. I journal at least 2 or 3 things or people I'm grateful for every day. You can easily make being grateful for someone or something a daily habit.
If we all ready feel peculiar, we're probably hibernating to a degree. Spend time thinking about, researching or finding how you can make your own life brighter.
Think before you decide.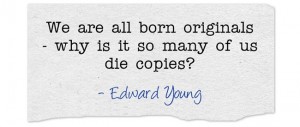 We more introverted like to think things through. We might think we don't fit in, or maybe that people don't "get" us or that we cannot do certain things the more extroverted seemingly do easily. Then stop and think it through.
First, if we don't understand who we are then step back and get to know you. This is one of the only places that the label introvert or extrovert is helpful.
Secondly, we can always find things we have in common with others whether it's sports, music or some kind of hobby. That right there my friend means two things: you are not as unique as you think and nor are you that peculiar.
Discovering our uniqueness in the way of gifts, talents, positive traits, will lead us eventually to know, we are unique.
But I say, let's use that to get into the real spirit of the holiday, Peculiar People Day.
What have you decided? Are you unique? Are you peculiar? Or like me, a little of both?