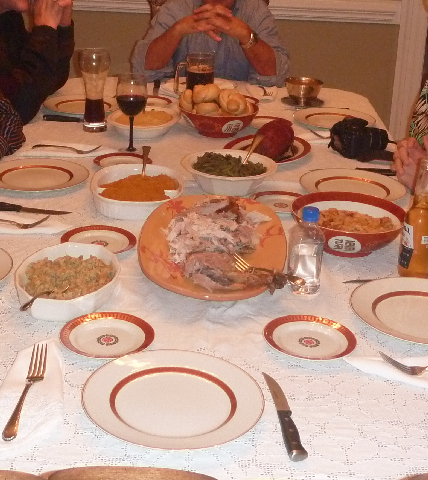 In the USA, Thanksgiving barely gets noticed in the media. This is a holiday that is celebrated in other places in the world so I wonder what attention it gets there. Are you ready for the bombardment of the commercialism already on us for the winter holidays?
It seems here in Virginia at least, we went right from Halloween to Christmas! Hooray for Capitalism, right? But what happened to the tradition of giving Thanks? Why is the media and your corner coffee shop seemingly ignoring a day that could be steeped with thankful traditions that might help us out of the mess that so many countries are in now?
I doubt my sickness of how we celebrate Christmas with all the red, green and glitter, is related to my introvert preference. So I had to do a little research about this ignored holiday.
–  Sports – Did you know football at Thanksgiving actually started in high schools? Then it expanded to the NFL, UFL or whatever leagues. It's big games, and bigger audiences.
– Company attention – I noticed in our local Starbucks, they did briefly celebrate it with some window decorations in lovely orange, brown and yellow warm colors. Even some of their drinks had glowing names, like Pumpkin Spice latte. But, I guess they had to quickly give way to the bright and cheery red and green, more lively colors and names – Peppermint Mocha, or Gingerbread Latte. Most department stores went directly from Halloween costumes to cheery tree ornaments.
–  The history channel didn't even have a feature on Thanksgiving that I noticed. Maybe because it wasn't really the pilgrims who originated it? Turns out it was the Native Indians who began a tradition of sharing long before the settlers even go to America. But I still kind of expect the "history channel" to step up the attention on it's traditions and meaning.
–  Eating too much – One of the blogs I subscribe to put things into perspective for me. Enjoy this one time of the year you likely over eat. You probably don't overeat every day. Just one day in the big picture isn't going to cause your jeans to be too tight or for you to tip over on the scales. Just be grateful you can enjoy the bounty and tomorrow, eat right.
– Shopping – Oh this got attention. Black Friday to Cyber Monday. Bah Humbug! I opted out. No shopping for me and not even a special for you. Not because I'm not grateful for you, but because Thanksgiving is NOT about the best deals.
This holiday's main attraction these days is more about eating too much, have-to-watch football, and a start of Christmas shopping madness.
Isn't it really about gratitude? Will we ever stop every once and a while as a country, or a world, to be grateful, to express gratefulness, and to give it attention? Are we dooming Thanksgiving to be ignored by the media for what it might be? Or is it up to us as individuals, on our own, to make it a ritual more for gratitude, reflection and enjoyment of simple things, instead of football and frenzied shopping?
What do you think?