LinkedIn how could you remove the "REPLY Before Accepting" option for an invitation to connect? Or was it a website hiccup?
Are you aware this crushes the introvert energy factor? And even for discerning extroverts, it's a blow to their networking strategy.
Recently I made a note on my LinkedIn profile about my acceptance process for invitations. My expectations were high. Surely people would respect my request? After all, it was the first sentence in my profile. Not the case with only 1 out of 10 invitations I get who actually honor my request.
This dilemma is only heightened by Linkedin's latest feature removal.
Shameful, what is happening to online connecting.
Since many online networking sites are like in-person networking venues, it was necessary to place this comment on my profile. You may not be able to read it here with this screen shot, so let me translate the phrases where the red arrows are pointing to: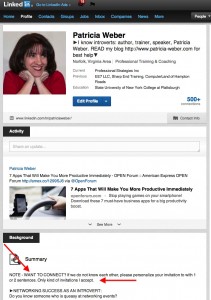 NOTE – WANT TO CONNECT? If we do not know each other, please personalize your invitation to with 1 or 2 sentences. Only kind of invitations I accept.
My son actually inspired me for this because I noticed he was similarly selective about LinkedIn connections he accepted. Many more people are today because of all the spammers and sell-a-thon mentality that people connect with.
It's just like face to face networking now where people are blah-blah-blah all about themselves. Hey, you already know everything there is to know about yourself so why not take interest in getting to know me?
Ah. Forget it. But if you are one of those people, you have to  know, I stopped listening.
Culprits in spamming and sell-a-thon.
Alas, now LinkedIn has removed the feature that allowed me to reply with a kind message to those other 9 out of 10 people. You see I want to know what your intentions are in connecting? Just as I want to know when I am networking face to face – so how can we help each other?
What I've found is that people who are merely interested in sending you various sales pitches, won't reply when I ask them, "So what do you have in mind for connecting? Are you interested in collaborating? Learning something about introverts? Or something else?"
Now I feel as though LinkedIn has joined the ranks of Twitter where some people follow you and if you follow back, and you quickly receive a Direct Message pointing you to, "Here's my latest flim flam item to buy!"
Many people, not just introverts either, are talking about this in a few discussion areas on the help community.
I am so hoping this was just one of those computer errors.
What do you think about the removal of this feature? How will it affect your behavior with accepting invitations to connect? If you don't like it, do you think we can do anything about it?