Customer service is part of anyone's role most days. You can be an employee, an entrepreneur with employees or a sole practitioner and you will have customer service issues. When such an issue does happen, it's important to recognize that it's already a high stress situation for the customer! Once you keep that in mind, then it's important to take care of your personal stress releasing needs.
While this guest blog post focuses on people working with often hundreds of calls a day – I can only imagine – the tips are worth keeping in mind even if you have just that one unhappy, or angry or otherwise disgruntled customer.
Want an energy surge? Reduce your stressors!
Stress Releasing Tips in Call Center Employees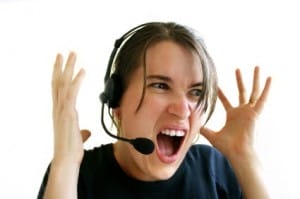 With the vehement technological growth, talented workforce mostly works in a hi-tech environment, run by computer technology. Several research efforts have proven that the most stressful area of work, is serving in the customer service area. The time pressure, high volume of calls, poor ergonomics, job insecurity, and lack of proper sleep are the main reasons for stress among call center employees. Work stress at Call Centers affects employees in different ways like low productivity, absenteeism, reduced job satisfaction, chronic fatigue, and insomnia.
Stay calm
Staying calm is very essential to an employee as becoming stressful will only create a negative impact on your work, and reflect as unprofessional behavior. You need to sit back and relax, as you will have to take hundreds of calls each day, from the time you arrive a work until the time you clock-out.
Do not take things personally
It is inevitable that you have to face rude customers and severe customer grudges at AnswerPlus Call Center. But dealing with them by matching their tone will only annoy them further. You should be polite and let them know that you are sorry for the inconvenience caused. Never take things personally, as you will only lose control of the situation and make it worse. Customers who are rude are not upset at the call center representatives but at the problem that they are facing. So it is very important to take the rude comments in relation to your job, and not personally.
Take breaks
Taking breaks at work is very important because sitting at the desk for a continuous stretch of eight hours can cause havoc to your health. Take a minimum of 15 minutes as break, every few hours, and this will refresh your mind and increase your productivity at work. Also, drinking enough water is important to remain hydrated. Try to enjoy your break by listening to music or by taking a walk. Make the most of the break time at AnswerPlus Call Center, because as soon as you are back at your desk, calls will start pouring in.
Personalizing the workspace
Personalizing your desk creates an at-home feeling and makes it fun and better for you to spend eight hours of your day, at your desk. Decorate it in a way that will make you feel like it is your own, like pinning pictures of your family, having personalized mugs, cartoons, stuffed animals or even some fresh flowers. Stress should be avoided to bring in quality in your work at AnswerPlus Call Center.
Also, avoid artificial stress busters like taking numerous coffee breaks, smoking cigarettes, or alcohol. Rather, try to remain stress-free by taking a walk, talking, and practicing yoga or meditation.
About the author
Grace is an expert associated with Answer Plus Inc. Contact a call center specialist at AnswerPlus Inc in Toronto, Ontario, Canada for more information on call centers.
I particularly love the tip about personalizing your workspace. Maybe it's the introvert in me but somehow it just makes sense that since I totally relish my own space at home, it would be like throwing a blanket over me when away.
What tip resonates most with you?
How do you handle your own stress with customer issues?