Top Easy Ways For #Extroverts To Be More Like #Introverts:
Patricia Weber and Bob McIntosh talk about how extroverts would like to be more like introverts
Is it us, or is it every day that an article or blog post alert has something about how introverts can become more like extroverts?
Bob McIntosh, and I saw a post on LinkedIn from an extrovert stating he believed he had some introvert tendencies. How exciting! If you're an introvert, you now know that an extrovert somewhere might want to shift gears into being more introverted.
Then we talked among ourselves about any reality to extroverts who want to become more like introverts.
After some talking and thinking, we came up with an astounding – yes! Take a look at what some extroverts have told us.
Top Easy Ways For #Extroverts To Be More Like #Introverts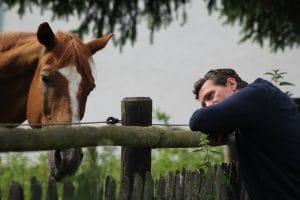 Better Listener
One thing I've heard from extroverts once they have a clear understanding about introverts is a comment like, "I'd love to be a better listener." And why shouldn't they want to be able to do this? One thing this would do for them is to give them more awareness of how they often lose eye contact with people when engaged in one-to-one conversation. It would be a challenge to master listening in this kind of discussion because our eyes respond to all that goes on around us. That in turn for an extrovert is energizing. However, since we all know extroverts who don't have darting eyes, it's entirely possible.
Does this bring up anything for you Bob in the way that extroverts may want to adapt?
More Focused
Pat, I agree that extroverts want to listen better. I have also heard extroverts say they wish they could be more focused. One example comes to mind. I was critiquing a woman's resume, and she was constantly interrupting me as I was providing advice to her. Our explicit purpose was to work on fixing her resume, yet she went off on tangents whenever I tried to speak. She would talk about her recent interview, then about her lack of direction in her job search, then about her income woes. It went on and on until just before our time was up, I said to her, "You know we've accomplished nothing here." She looked offended. But she agreed with me and left.
More Observant
Wow, Bob. Interesting the purpose was resume fixing meeting and yet no focus on that with the woman. My husband is an extrovert. He's usually laser-focused, like when getting his black belt in karate years ago. But he has told me on several occasions; he's sorry he wasn't more observant in a particular situation. Sometimes when we're out to dinner on date night, getting ready to order, and he hears my order, he'll declare, "Where is that on the menu?" But he usually isn't aware of any inattentiveness until I point something out that he didn't notice, and he says, "How did I miss that?" Maybe it's not an introvert-extrovert difference, but I know we do have men friends, more of an introvert, who are as discriminating with their menu as I am!
Reflect
As an introvert, I enjoy my down time, which allows me to reflect. It's true what they say about getting away from crowds and constant conversation; it recharges my batteries. Extroverts as a whole don't value the time to reflect as much as introverts do. In fact, when there is a lull in activity, they look for ways to fill the silence and, at times, become antsy when there's no external stimulation. Extroverts recharge their batteries by interacting with people. I've heard extraverts tell me that they'd like to be able to reflect, to be by themselves.
Downtime/Solitude
Bob, totally agree. When a more extroverted person admits it, they too like their downtime. What if extroverts experienced similar benefits as introverts? There was a report a few years ago listing many studies. It occurred to me one of the studies findings, The Energy Project, could shed light on how to easily enjoy downtime. "Science tells us we're at our best when we move rhythmically between spending and renewing energy…" For me this means in part, more to your point, their antsiness would become less of an issue. Instead, they could handle whatever comes next.
Stay in the Background
Pat, this talk about downtime makes me think about how extroverts seem to be the center of attention at parties, during meetings, and making sales calls with introverts "tagging along." Extroverts know there are times when they need to hold back and let their counterpart do some of the talking. Again this talks about their need to listen more than talk. One of my colleagues once told me she wished she didn't feel the need to be the center of attention, and that she should hold back. She is an extrovert.
More Interest in Others' Ideas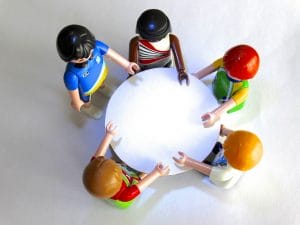 Sometimes I'll hear a more extroverted salesperson say, "How did I miss that?" In sales we can't afford to slip much, can we Bob? This phrase can come up when I'm networking and find myself fully engaged with people I know well. As they go on to explain what they mean, I discover they want both to take more interest in someone else's ideas, and go deeper with that idea. Extroverts can get so excited about an idea on its surface they can carry the conversation. Without letting someone else get their idea out, minimizes the chance to decide when and how to respond.
Think Before Talking
It seems like we're talking about the difference in the way introverts and extroverts communicate. After a meeting today, an extravert said to me, "Jeez, I guess I talked too much in there." I didn't have the heart to tell her that, yes, she talked too much and often interrupted others. It's common for extroverts to speak without thinking, which is the opposite of how introverts conduct themselves at meetings. Pat, do you believe that extraverts prefer to verbalize their thoughts; whereas introverts prefer writing to communicate their ideas?
Prepare More
Bob in my experience introverts usually prefer writing to talking. When I was interviewing other introvert coaches and authors for my most recent book, all introverts wanted to communicate via email and the two or three extroverts – phone or Skype! Another difference was in the preparation. Of course talking via email means plenty of time to think things through. On the telephone or Skype, even extroverts wanted the questions ahead of time. It seems; even extroverts want to be prepared to go into some conversations.
Regardless of the life or business situation, anecdotal evidence between us suggests that some people who are more extroverted would like to take on some of the characteristics of the more introverted.
Extroverts take some time to reflect. Can you find any experience we share here to be true for you?
Introverts do what you do best now: think about this. What does this possibly mean to you?