In using the word feeble in a recent email, someone asked, "What is the criteria for a 'feeble follow-up?' Just curious." Follow-up that is ignored is of course the feeblest type of follow-up. It isn't going on this list because you intellectually, and intuitively, know this. Just fathom the results of these top ten feeble follow-up attempts: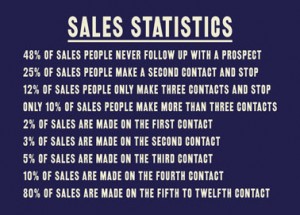 1. Overusing I. Like selling, follow-up is more about the customer or the prospective customer. A follow-up with more you than I, me, and mine is a stronger type of follow-up.
2. Repeating your first or previous contact. Yawn, b-o-r-i-n-g. Have something to say or write about that is both worthwhile and different on each of your follow-up calls.
3. Not personalizing. Even if the new product or service is something you are telling everyone about, make it unique for the person you are following-up with.
4. Ending without a call to action. It's your third, seventh or ninth contact. Ask for some kind of action: is this new product something of interest that I can stay in touch with you about? What's our next step? Call for a decision of some sort.
5. Taking too long. Use your listening skills to determine the decision making criteria of your prospect. Too long for you may be too short for the prospect. Too short for the prospect may be what gets you a rap as a pest. It's not your time line of wanting that is important but the customer's time line of need.
6. Using the clichéd, "Did you get my email?" How weak! If you sent an email it's better to say, "I'm following up on a recent email I sent because there is something important I want to ask you about." Take a previous follow-up contact to a stage of answering the unasked question your prospect might have.
7. Not having a plan or a system. Do you have a stack of business cards staring up at you? Then you don't have either a plan or a system.
8. Not taking advantage of rejection. They said no. Big deal. Hopefully you have uncovered the reason for rejection: ask for understanding the decision to help you get better. Or you might even want to ask for a lead. A referral may be possible as well.
9. Making more statements instead of asking more questions. This is kin to overusing I. Before you start down a presentation path, be a bit more curious. Let your prospect tell you the address you need to be at, what they are interested in knowing.
10. Giving up too soon. Those dang statistics tell us over and over again: 80% of sales are made on the fifth to twelfth contact. Yet, only 10% of sales people make more than three contacts. Your prospective customer wants you to know – you're losing interest in me too soon.
Both 4 and 5 are my Achilles heel. I'd like to blame it on introversion tendencies – but you and I know that is just as weak as the feebleness of the lack of action!
What feeble follow-up attempts have you experienced on either side of buying and selling?
I'm offering a free 25 page excerpt from How to Steadily Turn Prospects Into Customers: Taking the Mystery Out of Follow-up Reluctance and Enjoy Your Work. Learn easily and quickly how to go from collecting business cards to a 30% to 100% increase in sales and, if you like, experience it without going to ONE more networking event.