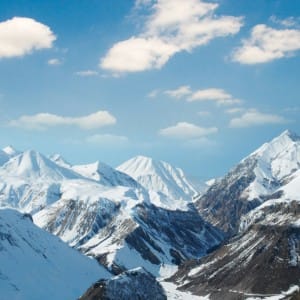 Call it noodling an idea around, thinking something through or contemplation and if you're an introvert, you are likely on board!
This time my inspiration comes from the pastor's wife, at the church I most often am at on Sundays.
It was on her part an innocent observation to one of the church's outreaches. She was thanking the members for all their time, energy and money, which helped get clothing to the people who need it in our community. The Andy Stanley quote she used that caught my attention is:
"Curb discontentment by becoming more aware of what people don't have and less aware of what you think you need."
Initially, hearing this made me a little sad. I didn't make time to participate in the particular event. Then as I continued to think on it, other thoughts started to percolate for me.
I realized how maybe on my blog, I might be more aware of what I need and less aware of what others don't have.
I wonder if you can relate that to your writing or blogging?
Increase Your Awareness Because Your Blogging Depends On It
Let's break this down.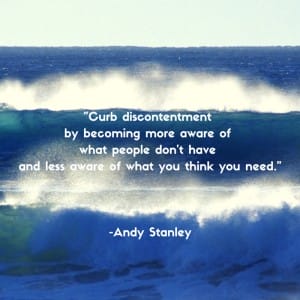 "Curb discontentment …"
My guess is most of us who blog want more comments, more visitors, more social shares, more more more results.
We're not happy with what we have. Am I right?
Sometimes I know I am impatient for more. Maybe you can relate?
For sure I'm impatient and this week it's showing up in so much for me. My husband and I are required to update our estate plan and it involves property. I had no idea how much time, energy and money it would mean because a salesperson back 2 years ago, didn't ask us – whose name should this property be in? By her omission, it's waiting for call backs, clarifications and lining up all the right sequence of actions that have to happen to correct this.
Then when I started laughing about it with each person as I called, the insane discontent started to dissolve.
They were laughing right there with me.
Maybe our overarching desire for all kinds of results needs to be curbed. What if we took a different approach? Could there be a shift?
"…by becoming more aware of what people don't have … "
What do your blog readers and followers not have that you can help them get?
There are likely some things we know without asking. But without asking, we just cannot know everything the reader would want to have.
This is the central idea that caused me to focus on this shared quote.
I wondered if other bloggers asked themselves how aware am I of what people coming to my blog don't have? And how often do you do a head check-up to know, or do you blog away without either asking or referring back to possible questions received on LinkedIn, or in email, or in conversation? Just lots of questions.
Know-it-alls showed up for several of us in my recent blog post about pet peeves. My friend and blogger Jeannette Paladino said, the topic seemed to have struck a chord. Maybe it was in some way about what most people didn't have – a peace with pet peeves.
To become aware of what people don't have we must observe, ask questions, pay attention, listen.
If we don't ask, if we don't pay attention, then we won't know what people don't have that we likely can help with.
That can fuel our discontentment, can't it?
It's time to break that possible endless loop.
"…and less aware of what you think you need."
This is part of the solution then.
What this might mean is what I call being other focused. Let's get the attention off of what I want and shift it to what others want. But, when I heard it in a different way, it kicked my butt.
When we think, what do I need from my blogging ( this is not a revolutionary idea) the better stance to take is become less aware of that me-focus.
Instead, ask what people don't have and how you can provide it.
Be curious what it is readers are lacking.
Then fill your blog with those ideas.
Because the ending of the quote is where we find results.
Now if you don't believe in God, or higher power, just take that phrase out. You'll still know the meaning.
"When there's a collision of that kind of awareness, God changes your heart."
On the face of the quote as I read the email from my pastor's wife, I mentioned to you early in this post I felt saddened for not participating in this particular community event.
I do contribute to the community I live in. As all of us there is only so much time. It's just that in the full context of my situation, there was a collision. By not switching from something on my agenda for what was on the might of many people who needed something, I missed an awareness of the heart.
There was a shift in focus needed and for that particular event, I wasn't able to help fill the void with what some other people needed.
I decided to ask where else and how else can I apply this wisdom? I didn't want to lesson to be totally lost.
My take away in thinking is that my real focus needs to be a knowing of what my readers and potential customer don't have. Then if I can deliver it, do it from my heart.
Can you relate to what might be a dilemma in our blogging focus?
How much are you focused on what others don't have versus what you think you need?