My round-up blog numbers were escaping me. My fix is – let them go! This is my weekly round-up.
I want to stay focused on blogging tasks and slow down and smell the roses too! Without our brain what can we do? Heck, not even enjoy the graphs.
Disclaimer: usually these are blog posts from other bloggers and rarely, my writing. Sharing good content from across the web for you that you might not have seen.
Staying focused, brain on technology, smell the roses, introvert in graphs #Blog Round-up from #introvert inspirer
Introverts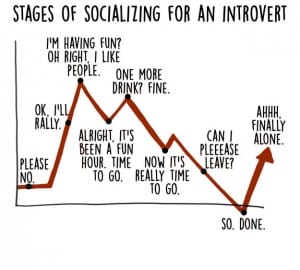 17 Graphs That Are Way Too Real For Introverts
You say party o'clock, I say bedtime.
Note: My favorite is #10! If you check this one out, do let me know your favorite. Of course, this is scannable and actually, I just gave you all the words in it so, maybe look at it as well as your first choice.
Blogging
Train Your Brain to Stay Focused on Blogging Tasks
You've probably heard the latest studies that multitasking may not be as productive as people once thought it was. According to an article on Entrepreneur, our brains hone in on distractions. The brain grabs our attention because the distraction signals change and change can signal danger.
David Rock, the co-founder of the NeuroLeadership Institute states that multitasking drops a person's IQ. We love the feeling of multitasking, too. Our brains get excited over multitasking, but this is not the most efficient way to work.
Read about some things you can do to train your brain to stay focused on a single task and avoid the trap of keeping so many different tabs open on your computer screen and in your brain.
Social media
The Impact of Technology on Your Brain
It's 2015, and there's no denying it: We live in an era of hyper-connectivity. We are constantly being bombarded with information—text, image, and video sweep into our consciousness night and day, flowing at us from our many screens. We're pinged for urgent emails and random miscellany alike. Every buzz has the potential to be the day's most important message. Usually, though, it's nothing. Dan Cooper likes your photo.
No matter. Our devices are like technological extensions of ourselves, and as such, we have a really hard time putting them down.
Fifty-four thousand words: that's how much textual information—in the form of digital content—is dumped on the average social media user per day.
NOTE – What does this do to our brains?
Life and Health
Slow down and smell the roses
Consider, could you live your life savouring every moment, or do you need (choose) to rush?
Consider, do you think you can get their faster with rushing… Now if you can then you may want to question that assumption…
On today's step of the journey through your mind… I'm going to briefly mention a few things which may stick in your mind… Or may not… We shall see!
It doesn't matter if they do or do not. What matters is the seed is planted for later on…
The main purpose of today is to give you a few very special and powerful moments.
The whole world is full up with Mr and Mrs Bumps.
Tougher Than Anything on a Cold – Also Brilliant for Serious Conditions
Most people consider it an interruption to more important activities, but a slight paradigm shift could save your health from the ravages of not only the common cold, but also serious health bombs like stroke, heart attack, pain, and early death. Try it today.
A 2013 Gallup poll suggests close to 40 percent of us are in this category of being at risk.
That's it for Staying focused, brain on technology, smell the roses, introvert in graphs #Blog Round-up from #introvert inspirer
Would you let me know which one you read?
What did you like about it?