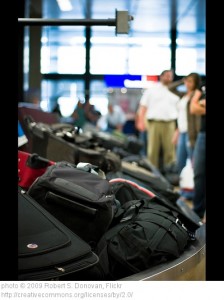 As we listen to the unfolding of extraditing Edward Snowden to the USA from any country he's found refuge in, we each make judgments: whistle blower, hero or traitor. Since he has at least 3 days in the transit area, a safe zone of a Russian airport, the real life situation continues to confound leaders let alone the public.
For me all the talk around lengthy airport stays remind me of emotional baggage that have many of us in a similar limbo. It would be with a feeling of relief if we could lose some of that emotional baggage as often our travel baggage is lost.
Doubt, powerlessness or whatever the unpleasantness is, it would all just – get lost – and turn into a vital, positive energy.
On a more humorous side, the whole situation with Snowden reminds me a bit of the 2004 movie with Tom Hanks, Terminal, where the character Hank plays cannot enter the USA and cannot return to his country. Stuck in his own safe zone but still needing some help.
How can we let go of some of that emotional baggage? We certainly don't stuff items in our travel baggage that might not pass the airport security check-in. What about looking out for our own emotional health safety? Lately, partly because of my regular meditation routine, if I'm feeling that  negative emotion I "pack it stuffed" to then let it go.
It frees you up when you travel lighter, that is, with less emotional baggage. A few months ago my husband and I flew to visit his mom in a long term care facility. We would be away for just 2 nights and 3 days. Unbelievably we were able to lighten up our packing to have just one under the airline seat bag! Why not do the same tough stuff and find a way that works for you to unpack any of your own negative emotions?
Just like Snowden and the Hanks character Viktor wanted to get out of that limbo zone, how long do we each want to stay in the baggage zone of our emotions? Is really after all, safe or does it just keep us playing safe?
The truth is that we all have that negative emotion from the past to some degree in some way. Maybe we were hurt by someone or maybe we were the one to hurt someone else. Whatever baggage you might have if you hold on to it, it will keep you stuck. And when you let it go, you'll find your energy returning to help you move forward in whatever way you want to.
What is your emotional baggage doing for you?
Is it helping you or hurting you?
What do you do to let it go? How is that working for you?
By the way, the movie Terminal, is based on a real life story of Mehran Karimi Nasseri who was an Iranian refugee who lived for 17 years in a lounge at Charles de Gaulle Airport. Now that is just way to long to stay stuck.