Just recently I was reading the Blue Ocean Strategy (BOS) blog post, From Blue Ocean Strategy to Blue Ocean Leadership, when it occurred to me:
What if introverts have to compete with extroverts?
Of course maybe it's just a feeling that we have to compete. Either way, if it's a feeling or if it's true, I think the BOS can help us hone our advantage.
Are you familiar with Blue Ocean Strategy (BOS)?
My discovery of it came out of a failed partnership in a tee shirt company a few years back. Learning about the BOS concept was one of my business takeaways although in working with five other partners we did not adhere to the concepts, which possibly contributed to our demise.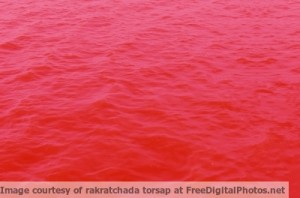 W. Chan Kim and Renee Mauborgne present the concept in a 2005 book of the same title. It's a metaphor that contrasts the wide openness of a blue ocean (unknown and untapped markets) with an overpopulated red ocean (traditional and crowded competitive markets.)
What's relevant about it for the more introverted of us? Maybe we could use it in part, for our organizational leaders or colleagues we work to look at our abilities and energy to contribute to greater performance?
Let's have a little fun and apply part of the BOS strategy to a workshop like exercise.
We'll start with we (introverts and extroverts alike) are all considering be partners in a new blogging platform.
We are meeting for the first time as a potential partnership. We have marketing, management, writing experience and more to serve us working in this virtual business.
Because of our success as entrepreneurs in our own business, we have a variety of strong relationships with potential vendors like graphic artists, shopping cart vendors, who we will likely need. We also each have our own customers, prospects and followers.
What we want to develop is a unique collaboration blogging platform. The idea is to help bloggers connect better with, find their audience and more easily convert this audience into customers.
Each of us surveyed our individual audiences, and we've found there are a wide variety of needs to satisfy.
Think of yourself being on this team to launch out on an already crowded and competitive market (red ocean), of blog tools and platforms to help bloggers find, connect and market to their audiences.
This exploratory conversation is going to go around the room and you will want to put your best self forward as the group begins to untapped market yet to be served, with a product that could launch the
The BOS strategy would actually have us focus on – the company strategy with various tools. We would certainly have more definitive information.
But we're playing, remember?
We'll apply just one tool and use it for us to make our case for why or how the introvert can break out of the competition, the likely more extroverted who can be loud in their promotion of themselves for an opportunity like this.
In BOS terms, we more introverted are going to make the competition, the more extroverted, "irrelevant." We want to make our more introverted way, the approach to take for the long-term success of this new venture.
What do you really like about being introverted that you know can contribute to the success of this new venture?
What do you really not like about being introverted in a new start-up?
What are you willing to do that you don't do now to contribute to the success of the new venture?
Have you differentiated yourself in a strategic way from the more extroverted?
We all want work that we enjoy and find meaning in. While BOS is all about recreating your industry, we might take some lessons from the strategy to carve out a more introverted approach to areas of business we might not even have thought about yet.
We don't have to compete with the more extroverted but instead, create the share of work that we can do better than anyone.
How might you apply this to your own personal development? Or your business?