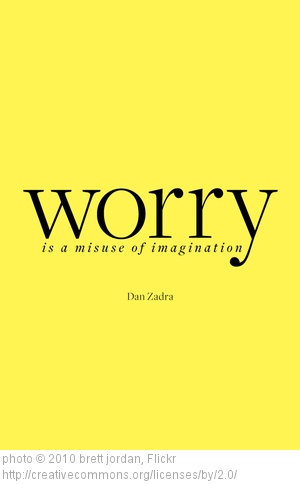 Worry is only a set of thoughts. When our worry moments cause us to take on useless habits, beliefs and actions is when it matters.
As I reflect on this year coming to a close, I thought about any of my thoughts of worry. I made a list to consider, did any of my worry change things for the better or for the worst?
If it did, was the Now I know the answer at least to the top ten 2013 worry moments.
Would mom return home? Mom broke her right hip with one fall and the second fall 6 months later, she broke her left hip. In the last 7 years my mom has bounced back from at least seven surgeries. She never recovered from that second break. The rehab director explained to me no matter how resilient we might have been, some of us reach a point when we are elderly where we just tell ourselves about our body, "Enough." It was mom's decision.
How would we take care of mom's long-term care expenses? Once we knew mom would need two people to tend to her daily living habits, neither my sister nor I could manage care giving. We applied for Medicaid for mom. Unfortunately for her, but fortunate for us, her meager income, which is only social security, fell below the poverty level and she qualified.
Would we be sucked into a timeshare sales pitch? My husband and I, as two salespeople can be a gullible couple! But because the timeshare was running an hour late, they put about 50 of us in one room. Instead of being given the hard sell, after an hour presentation, we were asked if we wanted to stay and sign up, or just leave and collect our theatre and dinner tickets. The show was terrific, the meal was wonderful and my useless worries all melted!
Would this be another year of spending more than my business took in? I started the year with a budget. Then, several contracts came in totally with gratitude because they were unexpected.
What if I could not find my lost or misplaced credit card? The worry for something like this for someone married as long as I have been is, how do I tell my husband? After dancing while saying my prayer to St Anthony, "Please St Anthony, come around, my credit card is lost and is must be found," well, my prayers were answered about 2 hours later.
The tracking number package showed it had arrived but I didn't have it in hand! This worry took me on a high intensity solve-it path. On the USPS website there it was, delivered to our house address. But I didn't have the package. I called the post office, unbelievably staffed on a Sunday. They confirmed and suggested to call back to speak directly with the carrier. When I was replying to the retailer email to get further assistance I noticed – the tracking number was the same for my first and subsequent order! It simply either wasn't yet mailed or was on the way.
Would I stay up with the publisher's rigorous writing schedule for my 2014 book, Communication Toolkit for Introverts? I'm passionate about helping introverts find their authenticity and put so much of what I've learned in the essential business communication skills. Even being late on two chapters, I am on target for the February or March launch.
My cholesterol shot up from 168 to 298 in less than a year. While my internist immediately wrote a prescription for a statin drug, I took this to my naturopath for a second opinion. Four to six months after being on plant sterols and an increase in krill oil, cholesterol down to 198.
How would we manage with less income coming in? My husband's consultative role after a local bank bought his business had a 5 year contract with a high six digit salary which ended. I worried how we would manage. We're still traveling, being generous with our families and enjoying the same lifestyle without debt.
When we put our dog of 16 years down for the "peaceful" death, I felt I had done the right thing. I could tell by the look in her eyes and her actions that day. Then why three months later was I worrying, "Did we do the right thing?"
One of my take-aways is that Chanel, never worried. She lived a wonderful life.
My score is 9 out of 10 of these worries were unproductive time and energy. This last worry continues and will take more time. Chanel was my daily companion and while many speak of euthanasia as a compassionate act, the holidays are a reminder of the joy with her in our life.
We all have a range of thoughts all day long from what we might label good to bad. Worrying is unproductive and is as worthless as a crystal ball. Thoughts themselves do not mean anything. It's the meaning we give to our thoughts that has an affect.
What kinds of things do you worry about? Does your worrying affect any of the situations in a positive or negative way?