When you work out of home as well as spend a lot of time in your head, so many things become routine. This week my husband decided to work out of home one day while his car was in the body shop. He asked that I tell him when I was headed out for an appointment so that he could tag along and us my car do an errand himself. It was a simple enough request.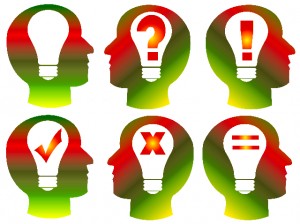 Forty minutes later, checking my cell phone, there was a voice mail from my husband. He left a voice mail asking me why did I left without him? Did I forget him? That's almost too funny.
Introverts, maybe even some extroverts, who are tasked with marketing or networking, do you think you might be too much in your head? Do you think you might be marketing and networking but forgetting the customer?
Here is how to know you might be making too-much-time-in-your head marketing mistake in-person or in social media:
1) You have never surveyed your prospects or customers for anything let alone what their needs might be so you are focused on your own agenda.
2) You don't have the business you want and yet you network often.
3) Customer referral program? What's that? You don't have one let alone know what one would do for you.
4) You don't follow-up for further conversation with people who come onto your radar screen as a prospective customer or referral partner. Leads. What's a lead?
5) You focus on getting more and more new prospects and fail to continue selling to your current customers. I suffer from this one even knowing that it's said that in marketing 80% of your business comes from existing customers and 20% comes from new customers.
6) You focus on the sale instead of the customer's problems.
7) You make it difficult in to easily connect with you.
8 ) You lack a clear message and communicate as if the world is your prospect.
9) You don't know what either an elevator pitch or brand statement does for you, or you don't have a clear one.
10) You do more talking than listening.
You might be able to even to add to this list some marketing ideas that you know are helpful but they are still in your head but forgetting to put them into action. Please do tell us those in the comments.
The forgetting was funny with my husband. We had a little laugh about it. And he did forgive me. But, it's not maybe so funny with your prospective customers. Do a check-up for yourself: what are you not doing in real life that you might be doing in your head that could be sabotaging your marketing and networking?