For introverted sales reps, the idea of asking for referrals can seem awfully daunting. Nobody wants to be that arm-twisting, high-pressure salesperson pumping their customers to cough up the names of friends and colleagues.
There's a softer approach – which has the added benefit of actually being more effective.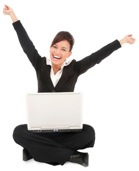 By now, you're probably already familiar with LinkedIn, the online social network for professionals that boasts over 100 million users. The critical word in that description is "network" – which, after all, is what referrals are all about. When you ask for a referral, you're really asking buyers to open up their network to you. Assuming you've done a good job, most buyers are willing to help you. LinkedIn makes it easy for both of you.
How does it work? Check out this four-step process:
Connect with a customer on Linkedin. If you haven't already, seek out one of your existing customers with whom you have a strong rapport and invite him or her to connect with you on Linkedin. By the way: you should do this for all of your customers.
Look through your customer's connections. Once your customer has connected with you, you can look through all of that person's connections. This means you'll get to see the profiles belonging to your customer's colleagues, friends, and people with whom they have a business relationship.
Find a good fit for you. As you browse  through your customer's connections you'll no doubt encounter some promising leads – if not a potential buyer, perhaps someone  who can open doors for you at a company you've been trying to get a foothold in.  Make a very short list of the best opportunities – no more than two or three to begin with.
Ask your customer for online introductions to the people you've selected. Simply shoot your buyer an e-mail something like this: "Alice, I noticed that you're connected with Joe C at Awesome Industries. I'd love to have a conversation with Joe to see who might be interested in my products and services at Awesome. Would you mind introducing us?"
You've made it really easy for your customer to help you. All Alice has to do is forward your e-mail to Joe, or connect the two of you through LinkedIn. No fuss, no muss – and no pressure.
Michael Boyette is the executive editor of the Rapid Learning Institute's Selling Essentials e-learning site and editor of the Top Sales Dog Blog. He's also managed marketing/PR programs for DuPont, Tyco Electronics, and US Healthcare. Contact Michael via email at topsalesdog@rapidlearninginstitute.com.