It's another one of those bizarre holidays to celebrate! Dump Your Significant Jerk is both a day and a week celebration, just in case you need a while to work up the courage.
When will you dump your significant jerk?
This holiday launches the week before Valentine's Day. Each is a total opposite of the other and yet, they do go hand in hand.
We might be a jerk to others, I hope I'm not and I certainly don't have these people as friends.
Or we might be a jerk to ourselves. In either situation, we need to know how to identify either the jerk around us or the jerk within us.
Can't we all be a jerk at times?
Or we talk to our self like we are one?
Here's my own introvert perspective on how to say good bye to either in our life because being a jerk knows no type style boundaries.
But maybe someone in our life is a jerk. Certainly, if you have a boyfriend or girlfriend you want to say goodbye to, then consider this week as your perfect opportunity.
But I'm too long married for this! Besides my husband is quite lovable, and far from a jerk, most days. He even does the dinner dishes.
But it could be your chance to say "hasta la vista." 
I didn't care for the bland dictionary definition of jerk so I searched for something until one I found that made me think, "Yes, that's it!"
Over at Grammar.com there's an essay from 1961 by a former newspaper columnist, Sydney Harris.
I love how Harris ends with:
"A jerk, then, is a man (or woman) who is utterly unable to see himself as he appears to others. He has no grace, he is tactless without meaning to be, he is a bore even to his best friends, he is an egotist without charm."
Whoa!
This caused scenes of the Bing Bang Theory television show to flash through my mind. It's one of my favorites of the few television shows we watch. Sheldon is often a jerk to his friends to include his girlfriend Amy.
But like the Harris definition, Sheldon is clueless that he is a jerk. Just watch one short scene and you will see.
A jerk only cares about them self. Whether the person is mean or whiny, it's likely they are self-absorbed.
Why would you insult someone purposefully? And why would you complain without meaning to find a resolution? Don't insult me saying you're just being honest.
And the jerk within you? Sometimes I suffer from comparitis. It's gotten less over the years but still I compare myself to others. I've blogged about this several times. It's just the kind of thing that a jerk would do. "I'm better than …" or "They aren't as good as…" Regardless of which side of the equation I put myself on, it's not a helpful thing to say to myself. Since I still have bouts of this jerky voice in me, I'm on the hunt to turn this habit around this week.
A jerk hears and sees only what they want. I can be somewhat like this as a customer. But it does take quite a push.
Right now I am borderline being a jerk with a vendor who has yet to deliver on a product from almost 3 months ago. They won't return my calls or emails. What is funny is they are turning out to be a bigger jerk than me.
I emailed them earlier this week letting them know, "you have a voice mail to listen to from me." Guess what? They emailed me back saying, "We're out of town and can't check voicemail. Sorry."
Hold me back from my next jerk move, please.
And the jerk within you? Maybe we could take the lead from the jerk who only sees what they want. Sometimes our self-talk is just the opposite. "Gosh that was silly of me," or "Maybe I can't sell." You know what that jerk in you says.
So this week, say goodbye to that part of you. Think only, "I can, I will, I do, I deserve." Good riddance to that jerk.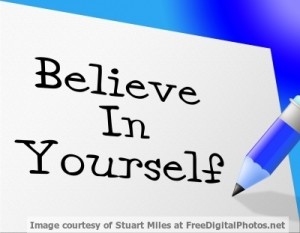 A jerk can be mean. I'm a big fan and admirer of Steve Jobs, the founder of Apple. If memory serves me, more stories of his rude and controlling behavior antics surfaced after he died. No one can deny he was brilliant. Jerk is probably the kinder word to use compared to people who worked with him who had different labels. The one and only time I met him in person there was hardly time to form any impression.
My guess is his success was in spite of this. It doesn't excuse jerk behavior though.
And the jerk within you? We might be upset with ourselves because we didn't quite make a goal we set. Or we might think we want to get back at someone because they treated us badly, the jerks. That's close to where I am with this vendor.
If I stop and think about it, unless I have no options left which is highly unlikely, being a jerk would likely rebound to me.
Time to dump your significant jerk?
In the end we just aren't as happy as we deserve to be when we are either with a jerk or have that jerk within us.
This is a holiday worth celebrating and acting on!
Imagine either letting go of a sour relationship or getting into a better relationship with yourself?
How bothered are you with jerks in your life?
Can you identify an occasional jerk with you?