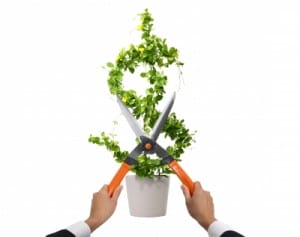 We've been with the same landscaper for 11 years. This year it was time for some replanting. After all, plants can get so over grown they start to creep into other plants, looking scraggly and otherwise unattractive. Then at one of the semi-annual pruning I noticed the Abelia Mardi Gras – don't you love that name? – was pruned back hard. That got me thinking, why not prune back the in-your face kind of networking you find yourself in?
In a cold winter some plants thin.
Many people find networking events these days to be cold and too me-focused. For an introvert this can be one of the worst situations and can cause us to want to crawl further into a corner. Well, why the heck not!? After all is there anyone who wants to hear another person speak all about themselves, ad nauseam. The whole time you feel the pruning shears wearing you down. Think about the last event you attended. Which did you enjoy more? The one where you listened to someone drag on about me-my-I? Or the one where someone took time to listen as they encouraged you to you talk? Let your networking events settle into a winter kind of event with the me-my-I taking back seat to asking questions of the person you meet.
Some plants bloom all summer with a lovely pink flower.
Online networking is a place to exercise a bit more self-control with the built in time-to-think factor. Social media often resembles in-person networking. You can find venues where members act the way the phrase starts – online social. Imagine ME an introvert explaining social networking! Isn't that ironic? But I find the very people who are what my UK partner and I call shark networkers, are both in your face when you meet in person, and in your invitation box on LinkedIn, FaceBook or Twitter. It's your ego that gets you to push what you have in people's emails (their face and ears.) Instead, get better results and start slow, and then keep the conversation moving forward and it might just sprout into something better.
There are different variations of some plants so don't get confused.
Like the Abelia with the variations of Mardi Gras, Kaleidoscope and Twist of Lime, often the unknowing confuse an introvert with being anti-social, shy, aloof or boring. To all networkers who are still trying to attract and engage all people the same way, you are confused with what appeals to the more introverted and the more extroverted so understand the difference! We prefer you to avoid all the fluff and hype; we want high value talk. We thrive one-to-one so if you think the solution you have might solve our problem, follow-up to connect with us one to one. Some people might put up with your idle chatter and actually be engaged with it. But we introverts are different so don't confuse us.
Introverts thrive best being who we are instead of going at things like an extrovert. So extroverts give yourself a kind of green thumb in networking:
– Shear away the yackety yack!
– If you think we have a match as customer, collaborator, referral partner then let's meet away from the maddening crowd.
– And please, never think I'm not engaged because I'm shy or any other darn myth you've heard. I just find your ego exhausting for me and need to do a bit of pruning for my own benefit.
What kind of behaviors, actions or beliefs would you like to prune back in networking?